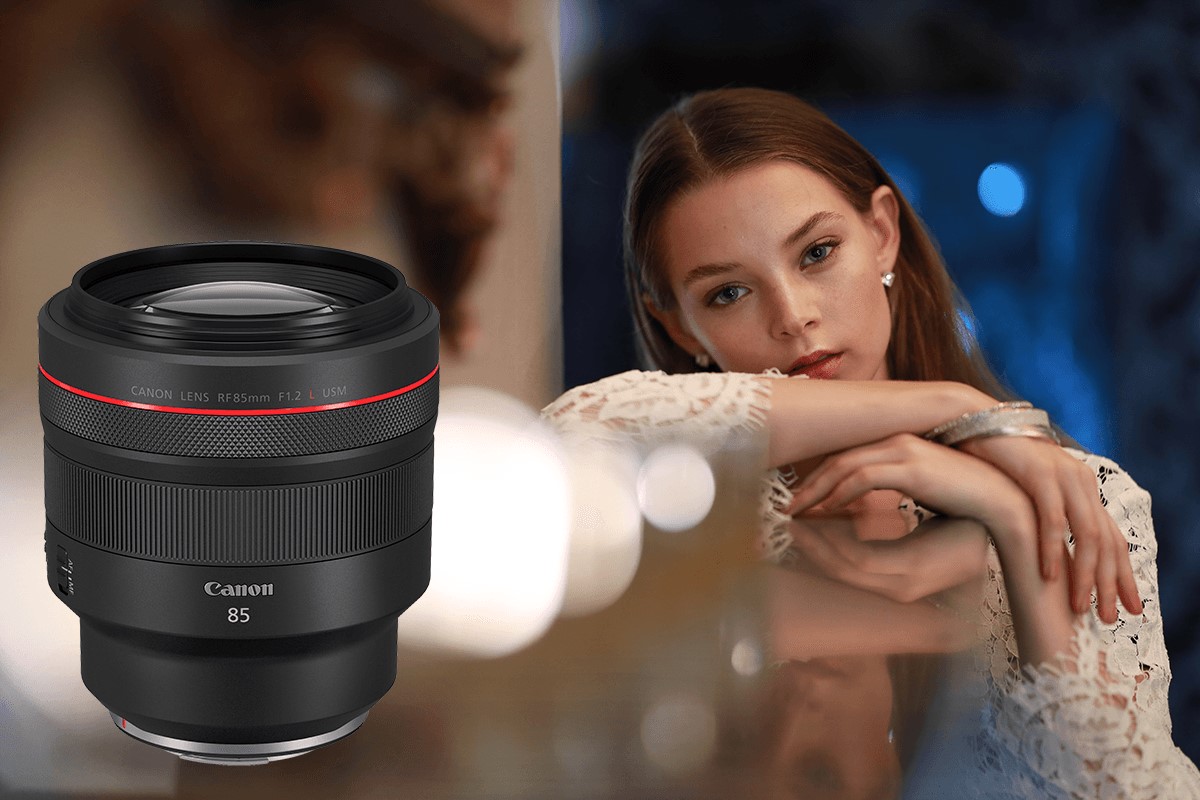 Ho Chi Minh City, 2 July 2019 - Canon today announced the launch of the new RF85mm f/1.2L USM portrait prime lens. This prime lens carries the utmost power of a 85mm focal length lens that is sought after by professionals and advanced amateurs for their optimal distance to provide perspective, depth and the ability to capture beautiful bokeh effect. In addition, Canon's new RF85mm f/1.2L USM is equipped with several outstanding features to optimize its optical performance with its large aperture and an amazingly high focusing speed.
This new lens belongs to the L series that employ the modern RF mount of the EOS R system developed for professional photographers. With a wide diameter and short back focus distance, the RF mount can achieve a bright aperture of f/1.2, ultra-high resolution and autofocus function.
"The 85mm f/1.2 lens has always been viewed as the industry benchmark for many professional and portrait photographers, and the new lens will continue to meet the highest demands of professionals on the EOS R system," said Mrs. Le Thanh Hang, Vice Director of Canon Marketing Vietnam. "With RF85mm f/1.2L USM, we are committed to delivering the same excellent optical standards as the L-series predecessors of the RF85mm f/1.2L USM while leveraging on the latest RF mount to maximise lens performance."
Coupling with the lighting factor, RF85mm f/1.2L delivers splendid portraits
From a soft diffused glow to a spectacularly lit skylight, the mastery of light makes a vital difference to photography. With its large aperture of f/1.2, the RF85mm f/1.2L USM allows more light to enable photographers to control light exposure and its 9-blade circular aperture also delivers amazingly beautiful and soft bokeh. The f/1.2 aperture enables the capturing of sharp and crisp images in low light environments with a higher shutter speed.
Canon's RF85mm f/1.2L USM achieves a minimum focusing distance of 0.85m and 0.12x maximum magnification, expanding the shooting capability from close-ups of people to shooting small objects. This lens is newly developed with 13 elements in 9 groups, including Blue Spectrum Refractive (BR) optical element in one location, one UD and one ground aspherical lens element to achieve superior image quality from centre to periphery even at the maximum aperture of f/1.2.
The RF85mm f/1.2L USM also features Canon's Air Sphere Coating (ASC) to reduce lens flare and ghosting caused by reflections and improve image clarity and contrast when shooting into backlight.
A New Sensory Experience with RF Mount & Control Ring
The RF85mm f/1.2L USM also features a new control ring found in new RF lens series. Users can assign settings including aperture value, shutter speed, ISO sensitivity and exposure compensation. The control ring provides an accurate tactile feedback in the form of soft click-stops to the user as they make adjustments.
When the control ring is operated alongside the main dial and quick control dial on the EOS R camera, the user will have three dials to set the aperture, shutter speed and ISO sensitivity respectively, it reduces the difficulty of operations that formerly required several steps.
It is recommended that users try assigning exposure compensation to the control ring during portrait shooting. For example, when shooting portraits outdoors and the lighting conditions change unexpectedly, users may use their left hand to operate the control ring and adjust exposure compensation while simultaneously focusing on using the shutter button with their right hand.
Besides, the lens has a dust and drip resistance that ensure high durability even when shooting outdoors or in high-humidity regions.
Availability
The RF85mm f/1.2L USM is available in Vietnam market from July 2019 with the estimated price of VND 68,000,000 (VAT included)
Specifications
| | |
| --- | --- |
| Angle of View (Diagonal) | 28°30′ |
| Angle of View (Horizontal) | 24°00 |
| Angle of View (Vertical) | 16°00′ |
| Closest Focusing Distance (m, ft) | 0.85 / 2.79 |
| Construction (groups elements) | 9-13 |
| Diameter x Length (mm) (Max.) | 103.2 x 117.3 |
| Distance Scale | - |
| Drive System | Ring USM |
| Filter Size (mm) | 82 |
| Max. Magnification (x) | 0.12 |
| Min. Aperture | 16 |
| No. of Diaphragm Blades | 9 |
| Anti-dust and Moisture | Yes |
| Weight (g) (Approx.) | 1195 |
| Accessories (Lens Cap) | E-82 II |
| Accessories (Lens Hood) | ET-89 |
| Accessories (Lens Bag) | LP1424 |
About Canon Marketing Vietnam Company Limited:
Canon's products reached Vietnam market in the early years of the 1980s through its authorized distributor. Over the past 14 years, Canon has marked its very active presence with the establishment of 04 factories in industrial zones such as Thang Long - Hanoi, Que Vo and Tien Son - Bac Ninh, Pho Noi - Hung Yen, and Canon Marketing Vietnam Company Limited. In addition to creating jobs for more than 25,000 people, Canon has also contributed to Vietnam's social development goals through its meaningful CSR activities. Canon Marketing Vietnam Company Limited is operating under the directions and support from Canon Asia Marketing Group, and Canon Singapore Private Limited Company, Canon's regional headquarter for South and Southeast Asia. Besides having Le Bao Minh as the Distributor, Canon also involves more than 300 dealers in Vietnam.
For further information, visit www.canon.com.vn
For product images, please visit: Canon Photo Library
Media contacts:
Ms Tran Thi Thuy Loan
Canon Marketing Vietnam Company Limited
Email: tran_loan@canon.com.vn
Product's details