CUỘC THI ẢNH SÁNG TÁC NHANH CANON PHOTOMARATHON 2020 LẦN ĐẦU TIÊN ĐƯỢC TỔ CHỨC DƯỚI HÌNH THỨC TRỰC TUYẾN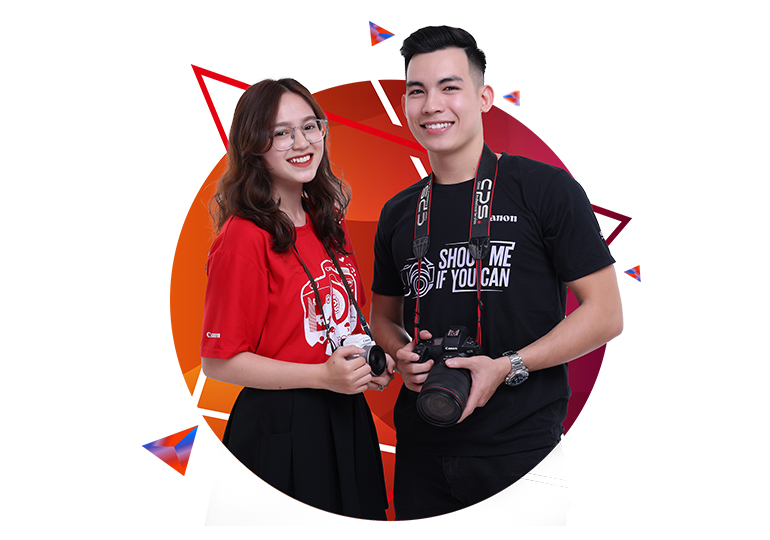 Ho Chi Minh City, 10 November 2020 - The Canon Photomarathon XIV organized by Canon Marketing Vietnam will be held online for the first time for photography enthusiasts across Vietnam with the valuable prizes.
Canon PhotoMarathon 2020 will take place on 28th Novemeber 2020 and registration has just been opened on the website: https://photomarathon.vn.canon. In this year's contest, two (02) themes will be given out sequentially by the Organizer; contestants are required to shoot their photos in accordance with the themes and submit their photos within the prescribed time frame. Winning photos will be announced right on the contest day. As the contest is held online, this will be the first year when photography enthusiasts, regardless of where they live, can join in this biggest photography feast in Vietnam.
No more geographical boundaries
"At Canon, we see photography as a type of language for communication and sharing among people of all walks of life. Having Kyosei philosophy as the core value, the Canon PhotoMarathon each year is a collection of daily and simple life stories told by that language, the language of photography. In this year, with the intention to eliminate all geographical boundaries as well as to bring Canon PhotoMarathon closer to photography lovers in all parts of the country, we have decided to organize the contest online. Once again, it is our wish that through this contest the love for photography will continue to be nurtured and spread throughout the community." – said Mr. Satoru Takeda, General Director of Canon Marketing Vietnam.
To those who are fans of Canon PhotoMarathon, perhaps they are no strangers to photos which capture the life and the people of Hanoi, Ho Chi Minh City, or Danang because these are the places that have seen the contest and its annual comebacks continuously. This year, as the registration opens to more areas, and with the coverage which is extented to the whole country, the Organizer wishes that images of Vietnamese people and Vietnam will be presented in more diverse ways with various colors from the country's many regions. And as a tradition, photos which have been captured through the contestants' shooting activities over the past 14 years will be kept for future projects, to show that Vietnam is rising strongly, dynamically, with rich cultural traits.
The most expected photography feast
After a decade of running, it can be said that Canon PhotoMarathon has become the biggest and the most expected photography feast in Vietnam. The number of registrations goes up every year, with 11,000contestants and more than5,000 photos being submitted in year 2018. This is not only a major contest for the photography community but it is also a chance for contestants to gain more experience in reality and to demonstrate their talents, which is a stepping stone for their personal growth.
In this year's contest, the General Director of Canon Marketing Vietnam and 02 reputable experts in the photography community – Hai Thanh (photographer) and Nguyen Khanh (photojournalist) – will be in the Judging Committee and work hard with their judgement power to select the most outstanding works from the contest.
Mr. SATORU TAKEDA: General Director of Canon Marketing Vietnam Company Limited
DO THANH HAI (HAI THANH) - Photographer: He is known for contemporary documentary photopgraphs in Vietnam. Graduating from University of Industrial Aesthetics of Hanoi in 1996, Hai Thanh has taken part in a wide range of local and international photography events such as photo workshop co-organized by Indochina Media Memorial Foundation and Vietnam News Agency in 2007 and 2010, "Life Stories" exhibition (2006) in Vietnam, "Chuyển động" ("Movement") photo exhibition (2008) in Vietnam, "24h" exhibition (2010) in Vietnam and France, "This day of change" group exhibition (2009) in Japan, "Blow-up" exhibition (2010) in Cambodia. What's more special is he has participated in the "Mobilegraphy" (2015) exhibition series under the global Everyday Project in New York and Istanbul.
NGUYEN KHANH - Photojournalist: Graduating from the Journalism & Media Faculty of Hanoi University of Social Sciences & Humanity (Hanoi National University), Nguyen Khanh kickstarts his photography career in 2011. He is currently working for Tuoi Tre newspaper. Nguyen Khanh is a reporter of rich professional experience who has been assigned to various important tasks in key local events in Vietnam as well as international events. His documentary photos have not only captured moments of the society/ key happenings / major events but also brought in delicate sensation to viewers. Awards: National Journalism Award (Journalism Photo category) for 3 consecutive years in 2012, 2013, and 2014 & Runner-up for Climate Change Photo Contest in Germany in 2014 In 2020, Nguyen Khanh was honored with a trophy by Facebook for his inspriring contributions to this social media platform.
A new race with new experience
Being held online for the first time, all the contest activities from registration to announcement of contest themes, photo submission, and announcement of winning photos will be done online.
In particular, the registration for Canon PhotoMarathon 2020 has officially been opened on the website: https://photomarathon.vn.canon. Upon successful registration, contestants will receive their contestant IDs and confirm their accounts via email sent by the Organizer. On the official contest day, 28th November 2020, the Organizer will in turn announce 02 themes on Canon VietNam's fanpage (https://www.facebook.com/canonvietnamfanpage) in the following sequence:
First theme: announcement at 8AM, photo submission deadline at 11AM
Second theme: announcement at 1PM, photo submission deadline at 4PM
Contestants will have 03 hours to shoot photos and submit them by uploading the photos online to the Organizer's system via their accounts previously provided by the Organizer through email; only one submitted photo is accepted for each theme.
The Judging Committee will select the most impressive photos basing on the following criteria: high revelance to the theme, creativity, meeting requirements for photo composition, lighting, colors; photos which can capture natural moments will be specifically encouraged.
Prizes
In addition to the chance to demonstrate photographic talents, creativity, and to gain experience in reality, winners have the chance to win attractive awards, including:
Grand prize:
03 awards will be determined by the Organizer for each theme:
First prize:
01 Canon EOS M6 Mark II kit 15-45mm IS STM
Second prize:
01 Canon EOS 200D II kit 18-55mm IS STM
Third prize:
01 Canon EOS M200 kit 15-45mm/55mm-200mm IS STM
Other prizes
"Impressive Photo" (maximum 05 awards per theme)
01 Western Digital 1TB Hard Drive of the value at VND 1.700.000
"Humorous Photo" (1 award per theme)
01 SanDisk Extreme Portable SSD 500Gb Hard Drive of the value at VND 3.300.000
About Canon Marketing Vietnam Company Limited:
Canon's products reached Vietnam market in the early years of the 1980s through its authorized distributor. Over the past 18 years, Canon has marked its very active presence with the establishment of 04 factories in industrial zones such as Thang Long - Hanoi, Que Vo and Tien Son - Bac Ninh, Pho Noi - Hung Yen, and Canon Marketing Vietnam Company Limited. In addition to creating jobs for more than 25,000 people, Canon has also contributed to Vietnam's social development goals through its meaningful CSR activities. Canon Marketing Vietnam Company Limited is operating under the directions and support from Canon Asia Marketing Group, and Canon Singapore Private Limited Company, Canon's regional headquarter for South and Southeast Asia. Besides having Le Bao Minh as the Distributor, Canon also involves more than 300 dealers in Vietnam.
For further information, visit www.canon.com.vn
For product images, please visit: Thư viên ảnh Canon
Media contact:
Ms Nguyen Thi Phuong Thao
Canon Marketing Vietnam Company Limited
Email: thao_nguyen@canon.com.vn