Ho Chi Minh City, 25th September 2019 - Today Canon unveiled the single-function printer LBP161dn+ dedicated for the Vietnam market and manufactured in Vietnam. LBP161dn+ is specifically the single-function printer which has been researched on and manufactured to suit the needs from Vietnamese businesses with its high-capacity ink bottle and a page yield of up to 4100 pages. It is aimed to be a powerful assistant to users who have a need for monochrome printouts. On this occasion, Canon also introduced new single-function and multi-function monochrome printers of the imageCLASS series: LBP226dw, LBP228x, LBP325x, MF543x, MF445dw, MF449x with faster printing speed for higher print volumes to suit well with the need for high printing volume at small and medium enterprises. For inkjet printers, Canon added in one more multi-function printer model, PIXMA TS8370, which is stylish in design, compact in size with high performance and higher printout quality.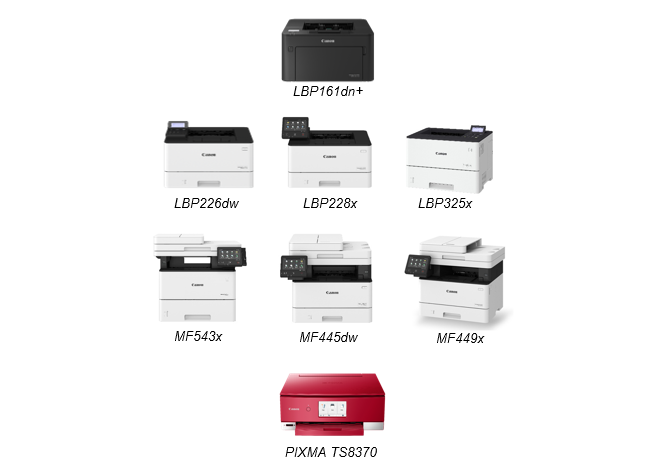 The single-function printer - LBP161dn+ - is manufactured in Vietnam for the Vietnam market with Japanese quality and a 2-year product warranty
LBP161dn+ is the perfect single-function laser printer which can understand the typical printing needs from Vietnamese businesses when it places printing capacity and low operation cost at its top priority. Compared with its predecessor, LBP151dw, LBP161dn+ is more compact in size, but can house a high-capacity ink bottle that promises outstanding printing performance. With its capability for duplex printing, high paper capacity, and a wide range of network connection options, this model is ideal for offices with a need for high printing volume.
"We know that high performance and low operation cost are the key for many Vietnamese businesses as they strive to maintain their competitiveness in a challenging business environment in Vietnam like today. Hence, we are proud to introduce the LBP161dn+ to specifically meet the demands from the Vietnam market alone. This innovation brings a new printing "warrior" to Vietnamese businesses that can deliver outstanding printing performance in a compact body and high operability. In addition, this model is easy to be maintained, durable, facilitating seamless workflows for businesses. I believe this new product continues to strengthen Canon's number one position in Vietnam's laser printer market since 2006 till now." said Mr. Satoru Takeda, General Director of Canon Marketing Vietnam Company Limited.
Manufactured in Vietnam, with Japanese quality and a 2-year warranty
LBP161dn+ is manufactured in Vietnam, but meets strict Japanese standards with high precision and intricacy. Moreover, unlike other printer series which usually give the users a 12-month warranty, this special printer enjoys a 24-month warranty at all Canon's authorized service centers and Le Bao Minh's service centers across Vietnam.
Big ink bottle with capacity of up to 4100 pages
Unlike LBP151dw, its predecessor, the single-function printer LBP161dn+ is produced soley for the Vietnam market. Its size is unchanged, but its printing capacity increases remarkably thanks to the design where the ink bottle stays separate from the drum, boosting up the ink bottle capacity and a page yield of 4100 pages.
Outstanding and elevated printing speed
LBP161dn+ is surprisingly improved in speed, assisting busy offices in clearing their heavy workloads. Its printing speed now can reach 28 ppm (for A4 size) and it also supports A5 size (landscape) and A6 (portrait). The A5 printing speed is improved at 12.1 seconds, a giant leap from 49.9 seconds of its predecessor.
Besides, unlike many other laser printers that employ the power-consuming and time-consuming central heater to warm the whole fixing roller, LBP161dn+ uses Canon's proprietary partial heating technology that reduces the warm-up time (from 8 seconds to just 5.2 seconds), saving power consumption and faster FCOT (first copy out time).
Convenient automatic duplex printing and cost-efficient
Meeting the fast pace of the business world today in Vietnam, LBP161dn+ helps users to finish their tasks faster with less waiting time. Continuing to have the automatic duplex printing feature of its predecessors, LBP161dn+ help its users to save paper thoroughy while they can still enjoy the convenience which cannot be found on single-sided printers.
Flexible connectivity
LBP161dn+ supports wired network connection and a wide range of mobile printing solutions such as Canon PRINT Business, Canon Print Service, Google Cloud Print, AirPrint®, and MOPRIA™. Hence, Vietnamese users can print easily and fast from their mobile devices any where in their offices.
Highly operable and user-friendly for Vietnamese users
The 5-line LCD display with Vietnamese interface allows users to easily check the remaining ink level, change printing settings, and monitor the printer's operation rapidly. Besides, LBP161dn+ is designed with its paper cassettes being deeply pushed backwards, hence making it easy to close its cover after paper supply.
New Canon imageCLASS Compact Monochrome Printers Bring High Productivity to Small Offices
The imageCLASS LBP226dw, LBP228x and LBP325x, three space-efficient A4 monochrome laser printers are tailored to the needs of Small Office Home Offices (SOHOs), Small Medium Enterprises (SMEs) and workgroups within large enterprises. In addition to great connectivity, the printers combine a small footprint alongside productivity-enhancing and scalable capabilities to grow with business expansions.
Enhanced Productivity for Today's Small Businesses
Built with a small footprint, the imageCLASS LBP226dw, LBP228x and LBP325x enable effective utilisation of limited workspace in small offices, and make installation possible even in tight work areas. All three printers support efficient duplex printing and a quick First-Print-Out-Time (FPOT) of less than 5.7 seconds. Equipped to handle the demanding workloads of growing businesses, the printers deliver swift monochrome printing with impressive print speeds of up to 43 pages per minute (ppm), ensuring maximum workplace productivity.
The imageCLASS LBP228x provides ease of operation with a large 5-inch colour LCD touchscreen, while the LBP226dw and LBP325x come with a 5-line LCD display with keypad.
The printers offer an intuitive user experience with easy and seamless navigation across the well-designed interface. For added user convenience, the printers support a hassle-free toner replacement process. Facilitating the removal of protective toner seals automatically, the printers minimise the manual handling of cartridges and allow work to resume efficiently.
Capable of supporting up to three optional 550-sheet cassettes, the maximum paper capacity of the imageCLASS LBP325x stands at 2,300 sheets in total, while the LBP228x and LBP226dw hold up to 900 sheets individually. Suited for the growing businesses, the versatile configurations work as highly scalable options and the huge paper capacity helps to avoid frequent paper replenishments.
Maximum Convenience with Easy Connectivity
The imageCLASS LBP226dw and LBP228x come equipped with Wi-Fi for easy wireless connections along with Direct Connection capabilities, allowing mobile devices to connect directly to the printers without the need for additional routers. The printers address the need for convenient mobile printing by supporting a wide array of mobile solutions across various platforms, comprising of the Canon PRINT Business app, Canon Print Service (available on iOS and Android), Mopria® Print Service, Apple® AirPrint™ and Google Cloud Print™.
Improved Operating Costs for More Savings
Utilising high-yield toner cartridges, the imageCLASS LBP226dw, LBP228x and LBP325x allow users to print more documents in between toner replacements, improving operating costs with increased page yield and reduced cost per print. With Eco Report, users can identify and assess the potential areas for reducing carbon footprint, while helping to keep printing costs in check.
Three New Smart Multi-function Printers – Simplifying Work Tasks for Businesses
Three new A4 monochrome laser multi-function printers, the imageCLASS MF543x, MF449x and MF445dw are built perfectly for the Small Medium Enterprises (SMEs) and workgroups within large enterprises, the latest range of smart all-in-one printers improve daily operations, user experience and cost efficiency for businesses desiring high productivity and performance.
"One of the most effective ways to simplify work tasks is to simplify the workflows that employees have to deal with on a day-to-day basis," said Mrs Le Thanh Hang, Vice Director of Canon Marketing Vietnam. "Designed to deliver maximum operational efficiency, the latest imageCLASS MF543x, MF449x and MF445dw in our smart printer lineup promises streamlined work processes, breaking down complex workflows to single-step operations. By automating repetitive work tasks, we aim to help companies eliminate time-consuming work, and enable their employees to focus on their core business for driving the much-needed productivity."
Raising Operational Efficiency
Meeting the needs of today's fast-paced work environments, the imageCLASS MF543x, MF449x and MF445dw allow users to complete tasks faster with less waiting time. Featuring quick single pass scanning of two-sided documents and swift printing speeds of up to 43 pages per minute (ppm), the high-performance printers help busy offices breeze through heavy workloads. Coupled with various combinations of paper cassette options, the printers allow up to a maximum of 2,300 sheets for efficient paper handling. The smart printers also support a hassle-free toner replacement process, facilitating the removal of protective toner seals automatically, and allowing work to resume quickly with minimal manual handling.
Incorporating QR Code Scan and NFC Touch & Print features, the new printers ensure easy device pairing with the Canon PRINT Business app for mobile printing. Other mobile printing solutions supported by the printers include Google Cloud Print™, Apple® AirPrint™ and Mopria® Print Service, enabling users to perform daily tasks wirelessly from any connected device with absolute ease.
Additionally, the intelligent printers help users streamline workflows and simplify work tasks effortlessly. With the pre-installed Application Library, users can customise and create various one-touch solutions that effectively automate tasks according to individual work requirements. Notably, the Scan to Preset Destination allows users to scan documents with preferred settings and send to pre-defined destinations, simplifying scanning workflows by converting multiple steps into a one-step operation for maximum efficiency.
Boosting User Convenience
Equipped with a large 5-inch colour touchscreen LCD, the imageCLASS MF543x, MF449x and MF445dw offer a great user experience with simple navigation across the intuitive user interface. Smartphone-like virtual QWERTY keyboard and the display of high resolution icons in a neat layout provide users with superb ease of use. Available as a shortcut on the home screen, the printers allow users to make copies of identification cards and passports in various layouts via a quick one-touch operation. Supporting greater convenience, users can easily preview PDF files from their USB memory media before sending the documents for print.
Achieving Desired Cost-effectiveness
With high-yield toner cartridges, users can print more documents in between toner replacements, achieving cost efficiency with increased page yield and reduced cost per print. The imageCLASS MF543x, MF449x and MF445dw also allow users to preview stored faxes and delete unnecessary faxes before printing to avoid print wastage. Additionally, with Department ID, administrators can implement restrictions on functions for different departments such as limiting print function, and set print quotas to minimise wastage.
PIXMA TS8370 - Turning homes and home offices into creative print houses
Stylish and compact 6-ink photo printer
Available in red, white, and black, this printer is packed with top-of-the-line features and photo print quality. Photo Blue ink extends reproducible colours for brilliant blues and details on cream-satin finishing, while a 4.3" touch-screen LCD display combined with two-way paper feeding adds to its ease of use. A useful multipurpose tray also allows printing on printable DVDs and also custom-designed nail stickers.
Numerous ways to connect and print
Users can connect to these new printers in numerous ways: the Canon Print Inkjet/SELPHY mobile app for general print and scan needs, as well as setting up the printer over Wi-Fi. The printers also support AirPrint, Canon Print Service for Android OS, and Mopria for direct printing, while PIXMA Cloud Link and Google Cloud Print are available to enable printing from the cloud.
The TS8370 is also equipped with a Wireless Connect button that aids in Wi-Fi setup, as well as Wireless Direct technology to allow direct connections to mobile devices without a wireless router.
Access a library of paper crafts and printables with the New Creative Park app
The new Canon Creative Park mobile app puts access to hundreds of greeting cards, 3D paper crafts, calendars, scrapbooking kits at your fingertips. Compatible with iOS and Android OS.
Message in Print App Changes How Photos Are Viewed and Enjoyed
Imagine a birthday greeting that pops out from a photo of a child blowing out birthday candles, or a photo postcard that transforms into a panoramic video of the actual location. The Message in Print app makes these all possible by embedding secret messages in printed photos that can be unlocked by scanning the photo with the phone camera. This app is available for iOS and Android OS mobile devices.
New ways to print: Iron-On Transfer Media and Double-Sided Matte Papers
The printers are compatible with the new Iron-on transfer papers – suitable for personalizing designs on cotton-based T-shirts, tote bags, or wristlets and wallets. The Light Fabric Iron-On Transfer (LF-101) is designed for light-coloured fabrics, while the Dark Fabric Iron-On Transfer (DF-101) works best on dark fabric backgrounds.
Also compatible with the printers are the new Double-sided Matte Papers (MP-101D) – ideal for the production of greeting cards with personalized designs. The MP-101D media is available in 12 x 12" and half-fold 7 x 10" sizes.
About Canon Marketing Vietnam Company Limited
Canon's products reached Vietnam market in the early years of the 1980s through its authorized distributor. Over the past 14 years, Canon has marked its very active presence with the establishment of 04 factories in industrial zones such as Thang Long - Hanoi, Que Vo and Tien Son - Bac Ninh, Pho Noi - Hung Yen, and Canon Marketing Vietnam Company Limited. In addition to creating jobs for more than 25,000 people, Canon has also contributed to Vietnam's social development goals through its meaningful CSR activities. Canon Marketing Vietnam Company Limited is operating under the directions and support from Canon Asia Marketing Group, and Canon Singapore Private Limited Company, Canon's regional headquarter for South and Southeast Asia. Besides having Le Bao Minh as the Distributor, Canon also involves more than 300 dealers in Vietnam.
For further information, visit www.vn.canon
For product images, please visit: Canon Photo Library
Media contacts:
Ms Tran Thi Thuy Loan
Canon Marketing Vietnam Company Limited
Email: tran_loan@canon.com.vn
Product Details