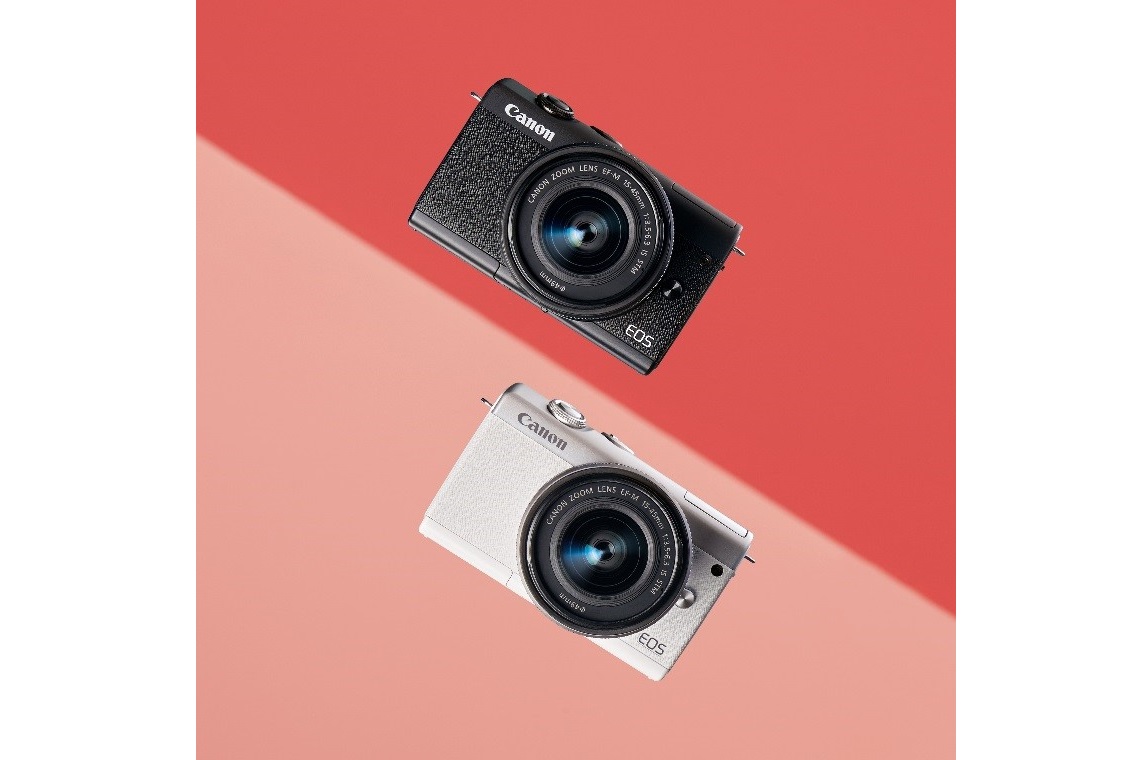 Ho Chi Minh City, 14 November 2019 – Canon today announced the latest addition to the EOS mirrorless interchangeable lens camera line-up: the EOS M200. A compact and intuitive camera, the EOS M200 is perfect for those looking to up their social media game from smartphone photography, to deliver higher quality images and videos to their followers. The camera is also ideal for users who desires higher quality selfie stills and videos or enthusiasts who wish to embark on their photography journey.
"We are living in the social media age and there are numerous images being shared on a daily basis. In such a visual age, quality content are those that will stand out from the crowd. The EOS M200 is designed for users who are eager to deliver high quality content that would elevate their social media standing and be able to share images and videos instantaneously on the go," said Satoru Takeda, General Director of Canon Marketing Vietnam.
Stills and videos that stand out
At the heart of the EOS M200 is a 24.1megapixel APS-C size CMOS sensor. The Dual Pixel CMOS AF technology, which is proprietary to Canon, has been improved and the number of AF zones available for automatic selection has expanded to a maximum of 143 points, ensuring that users can achieve high-speed AF with fast live view shooting effortlessly, for sharp high-quality images.
Being an interchangeable lens camera, users have the flexibility of selecting different EF-M lenses for various purposes, be it for macro, portrait, wide angle or telephoto shots, allowing more creative expression for various content. The camera can also be adapted to use Canon's existing line-up of EF/EF-S lenses, which further expands the freedom of imagination for users to deliver unique content.
What is a portrait or selfie if the eyes are not in focus? As eye is the window to the soul, the Eye Detection AF ensures that the subject's eyes are always in focus even if the subject is constantly moving—allowing the user to focus more on nailing that perfect shot with more natural expression.
With the new DIGIC 8 image processor, ISO capabilities have been enhanced on the EOS M200 and a maximum ISO speed of ISO 25600 (expandable to ISO 51200) is achievable for still images. This makes capturing clear images in dark locations possible. The EOS M200 is also capable of shooting 4K videos at a smooth 24p and 25p, with high image clarity and blurred background expression.
Stylish design and useful features
Designed to be slim and lightweight, the EOS M200 body weighs approximately 299g and can easily fit into bags. With two colours to choose from, the black EOS M200 comes in a premium matte finish whereas the white EOS M200 is designed with a textured grip and a sleek silver ascend on the top body—that perfect style companion. Crafted not only for ergonomic comfort, it is designed with intuitive three mode dial on the top ensuring quick access so the user would not miss that perfect moment that they want to share with their followers.
The camera also comes with the Creative Assist function, where users can easily adjust the desired look of photos directly in-camera with intuitive words such as "brightness" and "background blur" without having prior knowledge of shutter speed, aperture or white balance. Additionally, a variety of in-camera creative filters allow users to add effects to their photos - such as grainy film, HDR oil painting, watercolour and fish-eye effects.
Equipped with a Silent Shooting mode, users of the EOS M200 can shoot still images in scenarios such as presentations, music recitals and art museums without worrying about the shutter sound. The LCD screen of the camera tilts 180 degrees with a dedicated self-portrait mode. With most social content being consumed on mobile, content with vertical orientation is key. The EOS M200 fulfils that criteria with the ability to record movies that would automatically playback in vertical position on mobile devices. Movies can also be easily recorded with the record button displayed on the LCD.
What's more, the visual guide, which is particularly useful for those who are new to photography, is built into the EOS M200's user interface. This includes a shooting mode guide, a menu display with item descriptions, along with hints and tips to understand technical terms. There is also the optional Tripod Grip accessory HG100-TBR that can also double up as a table tripod and for steadier handheld recording, which will come in handy for content creators who take selfie shots or videos.
Smartphone connectivity
In addition to Wi-Fi, the EOS M200 supports Bluetooth connection as a way to connect to smart devices such as smartphones and tablets. Once the initial pairing setting is complete, the EOS M200 and the corresponding smart device will automatically connect via Bluetooth. After pairing and selecting a function within the app, the camera will automatically be connected with the appropriate connection method.
Users can transfer images via Wi-Fi connection from the EOS M200 to a smart device in two ways: the conventional method of transferring only selected images or send images to the smart device simultaneously while shooting. The latter will be especially useful for those who want to manage captured images quickly so they could upload to social media.
Product Specifications
Camera Model
EOS M200
Image Processor
DIGIC 8

Image sensor

Camera Effective pixels (total pixels)

APS-C size CMOS

Approx, 24.1 MP

(Approx. 25.8MP)
Focal plane AF

Dual Pixel CMOS AF

Area changes according to the corresponding lens

Number of AF area segments: max 143 points

AF area approx. 88& x approx. 100%

Number of AF area segments: max 99 points

AF area approx. 80& x approx. 80%
Still image normal max ISO speed

ISO 25600

H (expansion): ISO 51200 equivalent
Continuous shooting

One-shot AF: max approx. 6.1 fps

Servo AF: max approx. 4.0 fps
Silent Mode
Yes
RAW
CR3 included
LCD monitor
3.0-type approx. 1.04 million dot touch panel tits up approx. 180 degrees
Movie

4K 24p/25p (NTSC / PAL) / Full HD 60p

Support for viewing movies shot in vertical position
Size*
Approx 108.2 x 67.1 x 35.1 mm
Weight
Approx 299g
Network
Wi-Fi / Bluetooth Low Energy Technology
* Includes battery and SD memory card (according to CIPA guidelines).
Availability
Canon EOS M200 will be available in Vietnam market from Noverber 2019 with the retail price as below:
| | | |
| --- | --- | --- |
| Model | EOS M200 Kit 15-45mm/22mm | EOS M200 kit 15-45mm |
| Retail Price (VAT included) | 19.900.000 VNĐ | 15.900.000 VNĐ |
About Canon Marketing Vietnam Company Limited:
Canon's products reached Vietnam market in the early years of the 1980s through its authorized distributor. Over the past 14 years, Canon has marked its very active presence with the establishment of 04 factories in industrial zones such as Thang Long - Hanoi, Que Vo and Tien Son - Bac Ninh, Pho Noi - Hung Yen, and Canon Marketing Vietnam Company Limited. In addition to creating jobs for more than 25,000 people, Canon has also contributed to Vietnam's social development goals through its meaningful CSR activities. Canon Marketing Vietnam Company Limited is operating under the directions and support from Canon Asia Marketing Group, and Canon Singapore Private Limited Company, Canon's regional headquarter for South and Southeast Asia. Besides having Le Bao Minh as the Distributor, Canon also involves more than 300 dealers in Vietnam.
For further information, visit www.canon.com.vn
For product images, please visit: Canon Photo Library
Media contacts:
Ms Tran Thi Thuy Loan
Canon Marketing Vietnam Company Limited
Email: tran_loan@canon.com.vn