Hundreds of little photographers rock the
Canon PhotoMarathon Junior
The junior version of Canon PhotoMarathon held in KizCiti with a wide range of activities for little photographers.
Ho Chi Minh City, 30 June 2018 – Amid the laughter of more than 800 junior photographers aged between 8 and 13, who collectively submitted more than 550 entries, Canon today closed its second PhotoMarathon Junior. The two winners of today's event each take home mirrorless EOS M10 cameras and Selphy photo printers from Canon Marketing Vietnam
Aimed at awakening the photographic potential of the children of Vietnam, the Canon PhotoMarathon Junior today marked the return of the company's flagship event's kids category after a two year absence.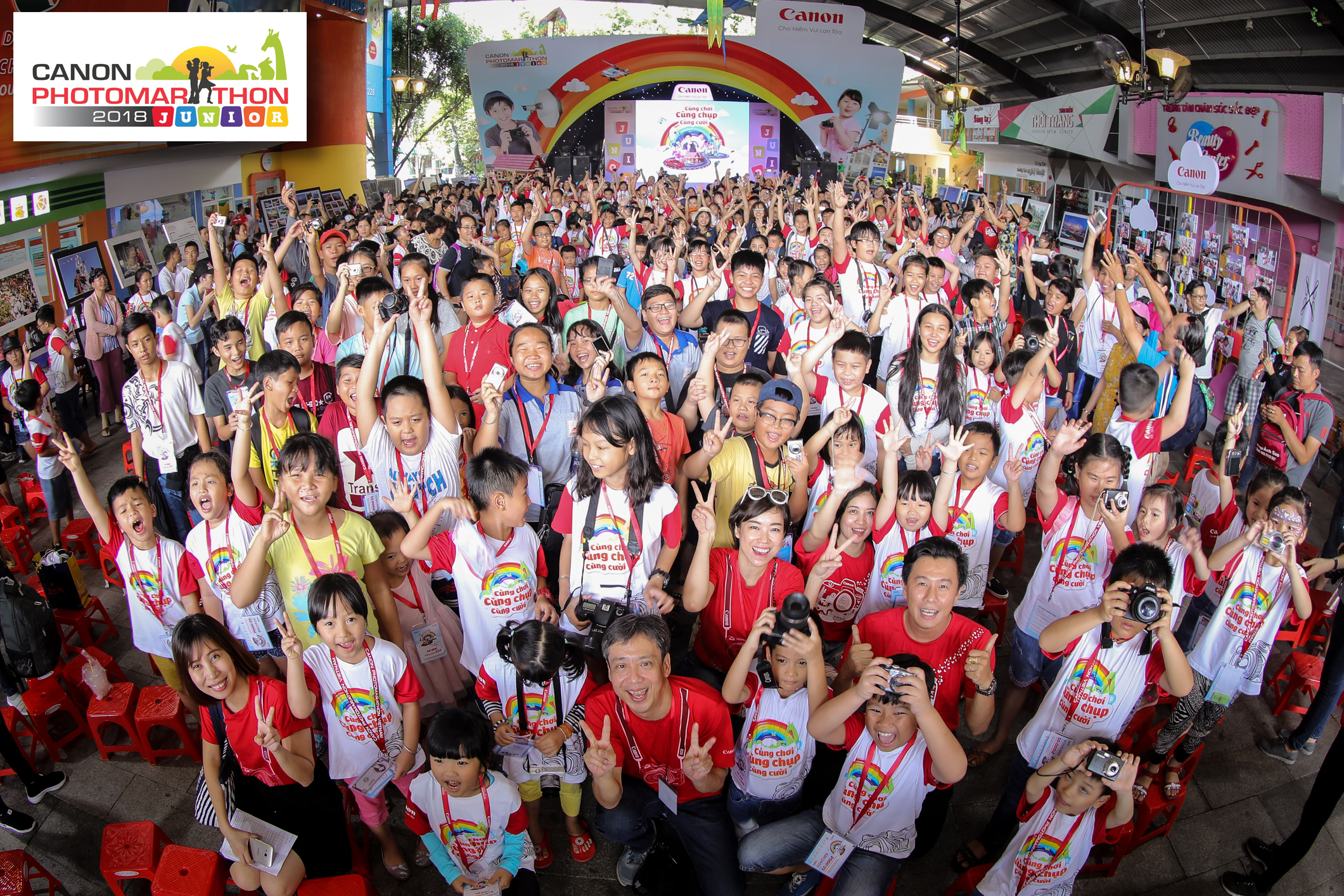 "Canon is the world's leading imaging solution provider and has long been recognized as a playground for professional, semi-professional and amateur photographers, but who loves a playground more than the children?" quipped Canon Marketing Vietnam General Director, Mr. Hiroshi Yokota. "Canon continues to allow its users of all ages to capture their world-views in creative, learning, and fun environments that help them develop not just photographic, but also the soft skills that life requires. To Canon, nothing is more important than shaping the future by helping to develop future generations, and the Canon PhotoMarathon Junior is part of our fulfilment of this mission."
Held in a two-hectare area inside KizCiti in Ho Chi Minh City's District 4, Canon PhotoMarathon Junior is not only a creative photographic race but also a playground for children. Both parents and children took the chance to "wield the wand" capturing stunning and unique patterns and shapes in the light-painting dark room. Kids also took the chance to disguise themselves as their favorite cartoon characters at the special Face Painting booth. Also, at the Zoom and High Speed booths, kids were shown basic photography skills by Canon experts. Furthermore, the event gave guests opportunities to experience and purchase Canon products at very attractive prices.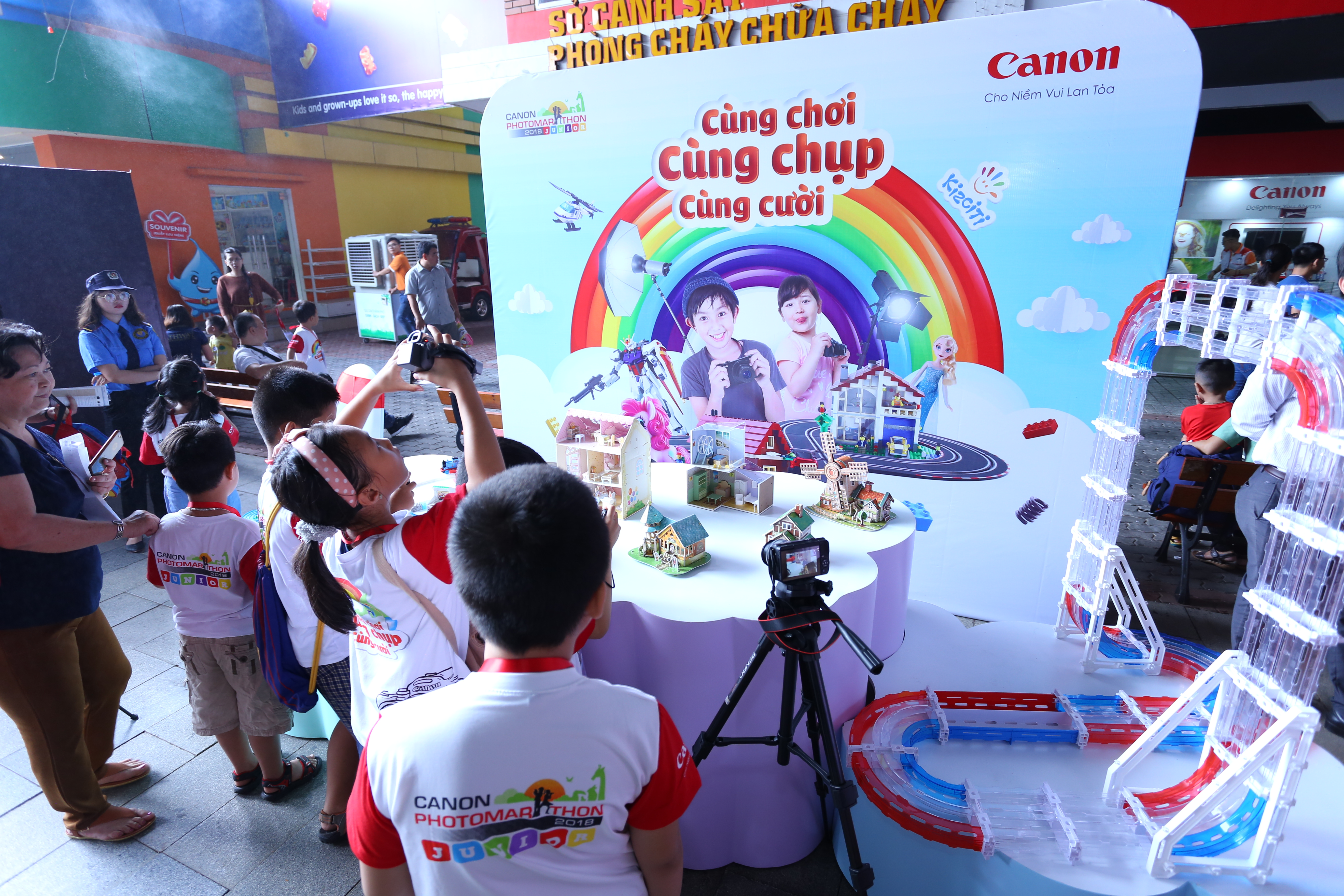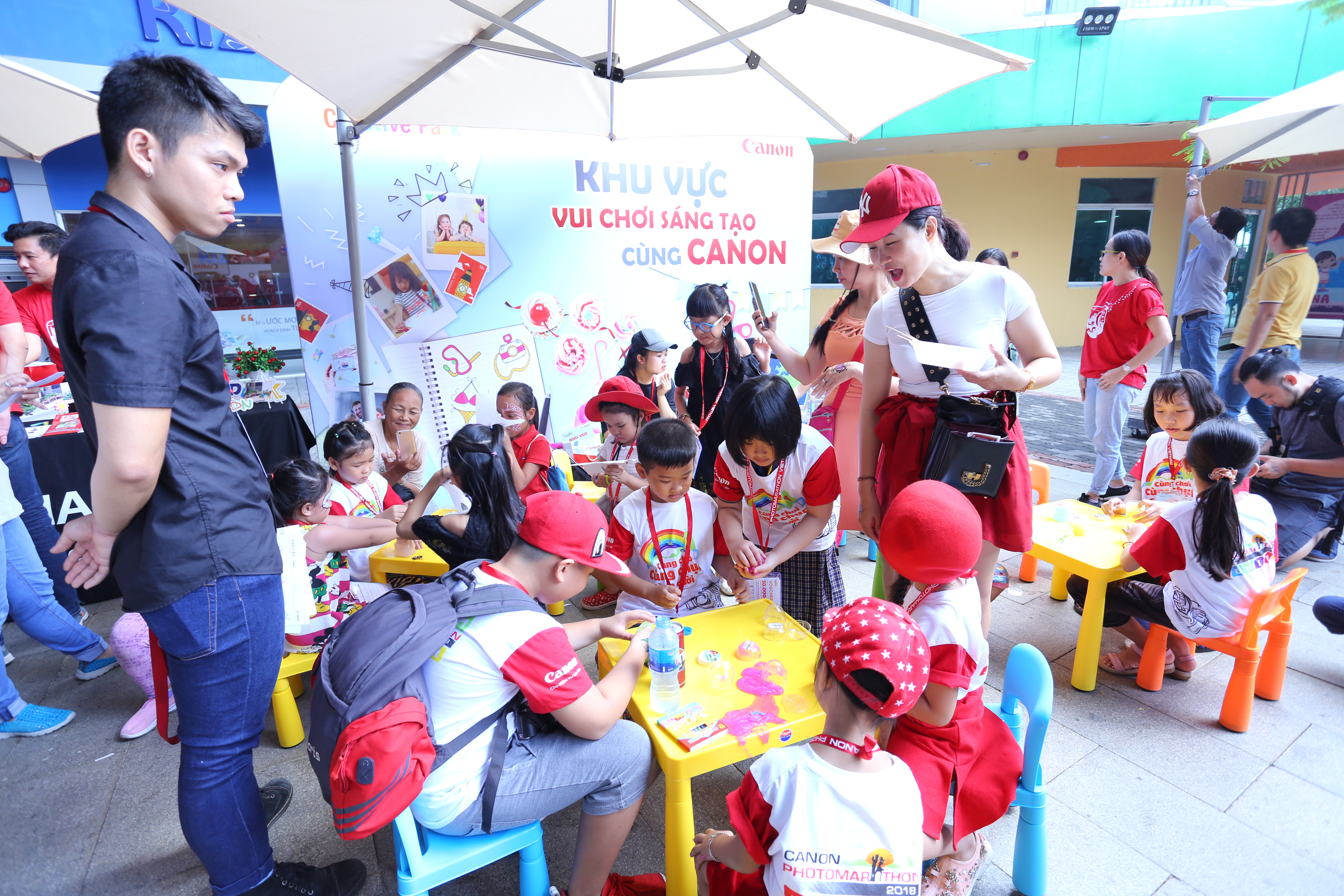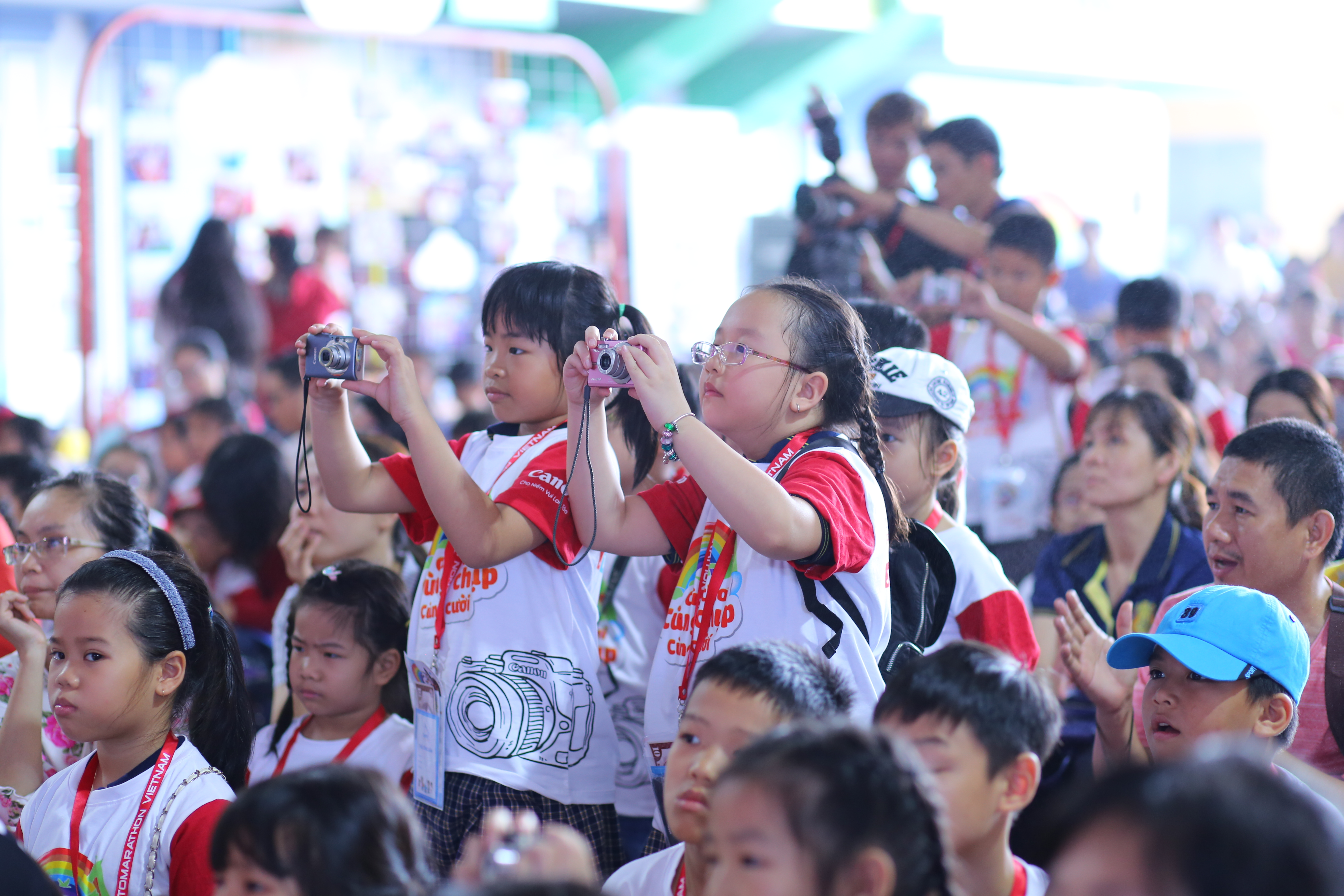 Proud mother Thanh Vy of HCMC's Phu Nhuan District said: "My son is so excited to be a part of Canon's photo contest today. I think it is a great opportunity for him and all the other children here to develop their skills of observation of the world around them. It's an exciting playground for them to make new friends and learn new skills."
Following the performance of dance crew ABC KIDS, a short clip was shown and the first topic – Colors of Life was announced. With the second topic, Sharing, revealed after the submission time of the first. Both challenged the little contestants creative impulses, but they certainly managed to surprise judges and parents with their unique perspectives.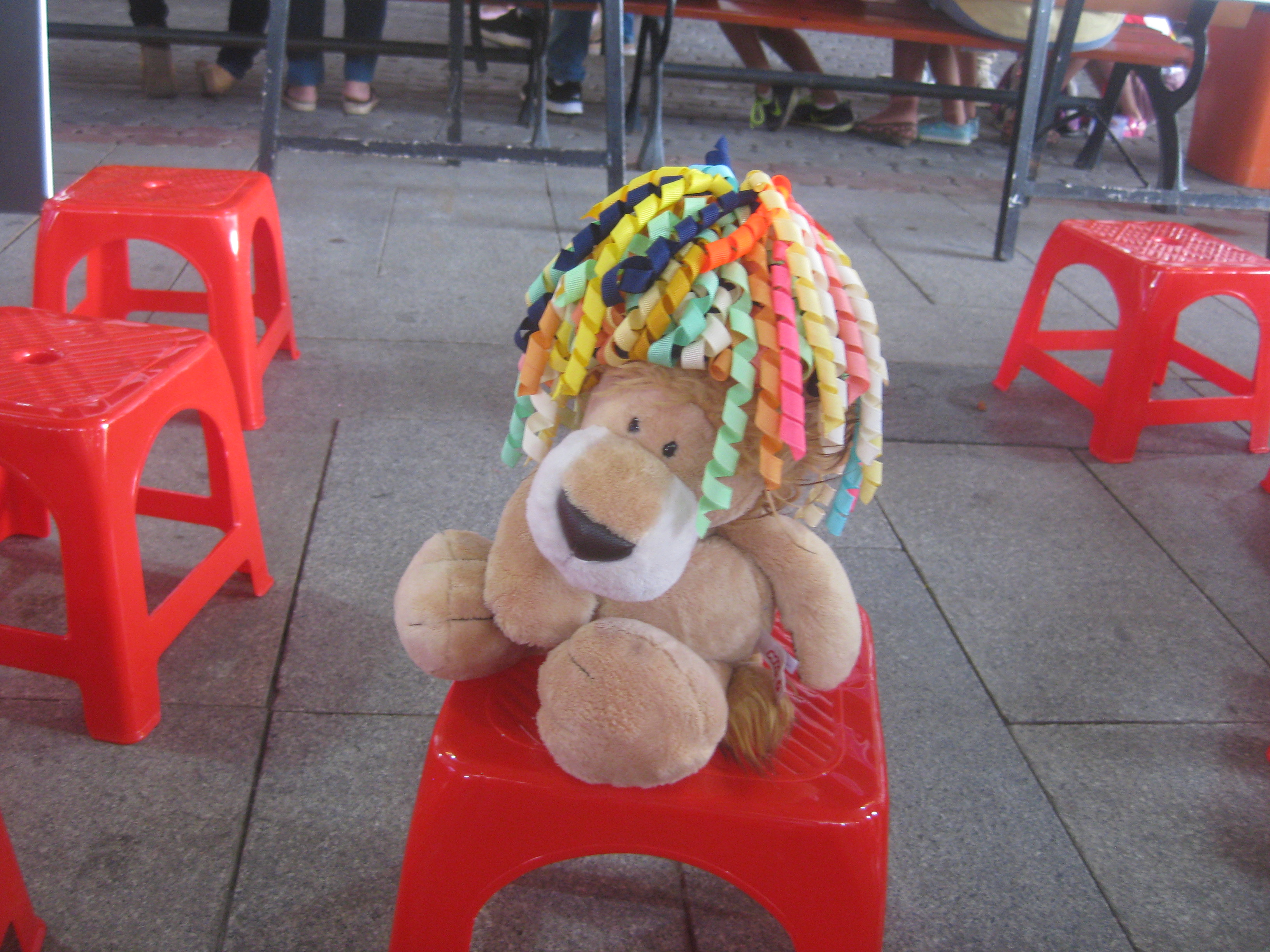 With palpable excitement surrounding the complex, inspiration stuck the miniature brigade of photographers, who ran all over the area to get their assignments finished on time and submitted to the judges.
Two hours and 550 submissions from 800 contestants later, the judges took on the arduous and challenging task of awarding the best photos to win the mirrorless EOS M100 camera.
First prize winners: 1 EOS M10 camera + 1 Selphy photo printer

Winner of the topic Colors of Life: Ta Thuy Lam (051)
Winner of the topic Sharing: Ho Tri Thien (002)

Second prize winners: 1 SX 430 camera + 1 Selphy photo printer

Winner of the topic Colors of Life: Pham Van Anh (286)
Winner of the topic Sharing: Le Trinh Quynh Chi (642)

Third prize winners: 1 IXUS 190 camera + 1 Selphy photo printer

Winner of the topic Colors of Life: Duong Hoang Nhat Minh (487)
Winner of the topic Sharing: Nguyen Tran Minh Thi (329)


Fourth prize winners: 1 IXUS 185 camera

Winners of the topic Colors of Life: Huynh Hai Dong (557), Ho Tri Thien (002)
Winners of the topic Sharing: Bui Le Dong Quan (476), Ngo Thanh Truc (033)
Consolation prizes: Canon backpack

Winners of the topic Colors of Life: Nguyen Truong Vu Uyen (003), Tran Gia Huy (012), Nguyen Khac Gia Khanh (056), Nguyen Dang Duy Khang (341), Ngo Dang Phu (769)
Winners of the topic Sharing: Luong Duong Quang (018), Lam Bao Ngoc (059), Phan Chi Thien (328), Le Ngoc Han (449)
Cute" prizes: 1 IXUS 185 camera

Winner: Nguyen Quynh Lam (362)
Judge 1 – Mr. Hiroshi Yokota excitedly shares his thought of Ta Thuy Lam's photo: "We were all really surprised by the quality of entries we received today. Thuy Lam's work captured a very beautiful moment. It is an image loaded with ingenuity and composed with harmonious colors. It reflects the strange and innocent angle of view that adults have often outgrown."
Mr. Ta Huu Hau (District 1, HCMC), father of Ta Thuy Lam said: "Canon's Vietnam fanpage led me to today's contest, as I am also a professional photographer and have taken place in the Canon PhotoMarathon myself. I immediately registered my daughter in the Junior event. I only wanted her to get some practice today – but she won the entire contest! I am so proud, and hope that she continues throughout her life to share my passion for photography. She will definitely be a part of the next Canon PhotoMarathon Junior."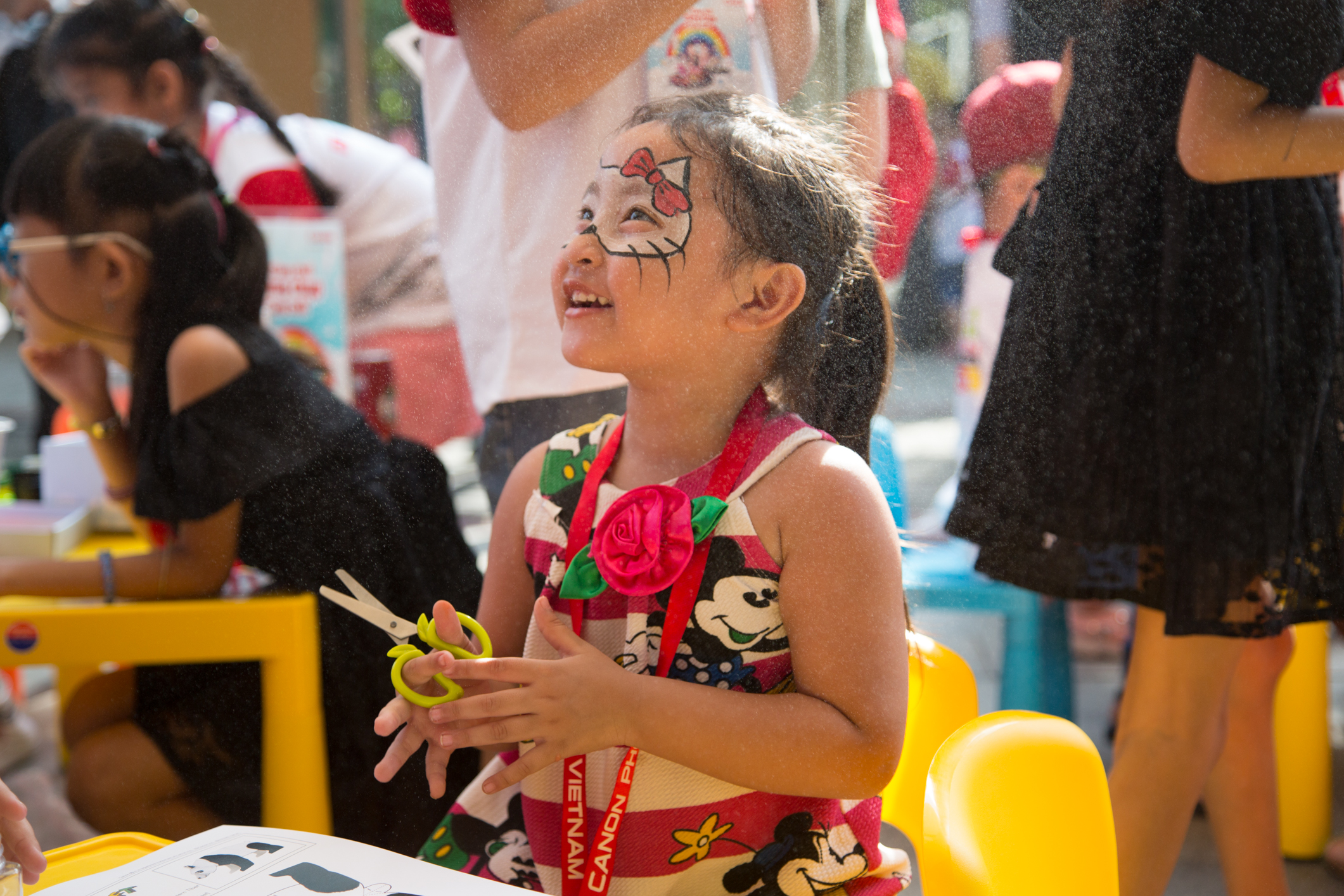 Along with that, judge 2 – Mrs. Le Thanh Hang, Assistant Director of Image Communication Products & Corporate Communications, is impressed by the photo of Ho Tri Thien which is the winner of the second topic – Sharing.
She said: "Of the hundreds of works that I saw today, this was the photo that captured my attention on first sight. It captures the precise moment when mother and daughter were sharing the joy of their meal. It completely reflects the true spirit of the topic 'sharing'."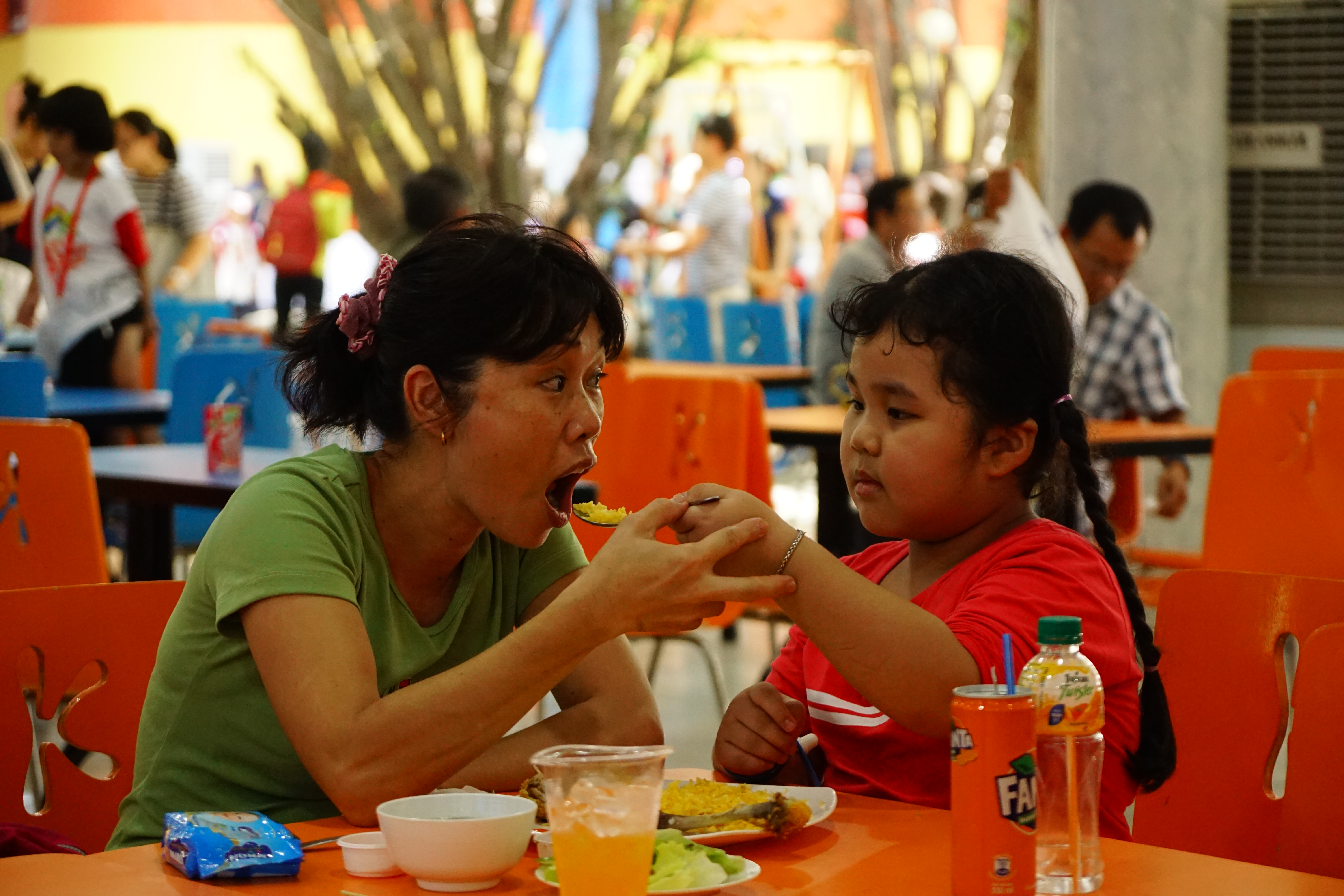 Nguyen Quynh Lam's photo, which won the "Cute" prize. Judge 3 – Mr. Tran Bao Hoang, Expert of Image Products, comments: "The work of Quynh Lam is very 'cute' depicting a lion with a colorful curly wig in the middle of the picture. It made all of the judges laugh. The subject in the photo is a close-knit toy that showsa kind of rustic innocence."
Officially closed at 2 p.m., Canon PhotoMarathon Junior 2018 not only fulfilled its mission of providing a fresh, meaningful playground that inspires those children the passion of photography, but also left a good impression on both participants and their parents.
Mrs. Ngoc Minh (District 2, HCMC.) shares: "In my opinion, Canon PhotoMarathon Junior is one of a few summer events that bring both quality and meaningful things for children. In one day, they not only learn a lot of good things about photography but also have the opportunity to compete, have fun and make new friends. I hope Canon will continue to organize more useful and fresh programs for children in the future."