Canon unveils new lightweight printers to support cable identification needs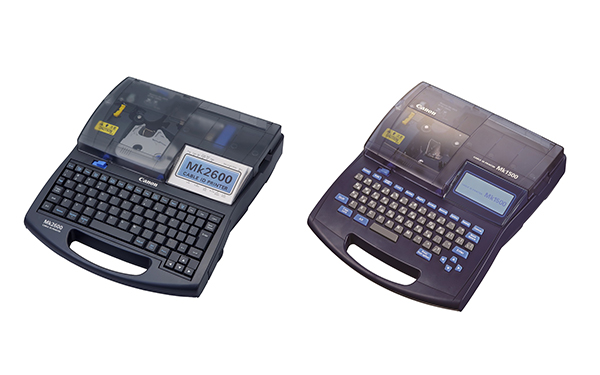 Ho Chi Minh City, 13 August 2020, Canon today announced the Canon Mk2600 and Mk1500 cable ID printers to produce sleeved labels for construction, renovation, internet and telecommunications cabling. Featuring thermal printing durability, tactile keyboards and highly visible backlit LCD displays, the Canon MK series Cable ID printers combine rugged portability with functionality, making them highly suitable for indoor and outdoor field work.
High Printing Speed and Accuracy
​​​​​​​
The Canon Mk2600 printer prints up to 40mm per second, while the Mk1500 printer prints up to 25mm per second. Both printers support print resolution of 300dpi with three selectable print speeds which allow users to adjust based on field requirement. For accurate print result, the Mk2600 provides print length adjustment in steps of 0.01%, giving precise pitch control which is useful in printing indication plate for terminal blocks.​​​​​​​
Flexible Operation Improves Productivity​​​​​​​​​​​​​​
​​​​​​​
The Mk2600 and Mk1500 printers support automatic full or half cut of print media with user adjustable depth and cutting speed, ensuring convenience and quality finish. Various print patterns such as framing and selective character orientation are also available. Besides that, both printers can be set to perform consecutive printing of same text on every segment and serial printing which print numbers that increment automatically as the segments print.​​​​​​​
Support Wide Range of Print Media
​​​​​​​With a wide range of media cassettes and attachments, the Mk2600 and Mk1500 printers provide extreme versatility on print media support, allowing users to print on material such as commercially available soft PVC tubes or heat shrink tubes1, label tapes, wrap around tapes, 4mm ID strips and plates2.​​​​​​​
PC Connectivity through PC Connection Kit
​​​​​​​
​​​​​​​The PC Connectivity support on Mk2600 printer enhanced productivity and workflow by allowing users to manage large quantities of data on personal computer. Furthermore, the PC Connection Kit accepts CSV-format files in addition to the existing original file format. This feature greatly reduces the time required for field work.The overall performance and ease of use of the Canon Mk2600 and Mk1500 cable ID printers will provide the speed and productivity needed in cable identification work.The Canon Mk2600 and Mk1500 cable ID printer will be available at Canon authorized distributor – Le Bao Minh from August 2020.
​​​​​​​
(1)Before using a tube, be sure to check whether characters can be print on it.
​​​​​​​(2)Printing on plates is only possible with Mk2600 printer. Before using a plate, be sure to check whether characters can be printed on it. Only manual cut is supported when printing plates.
​​​​​​​​​​​​​​
​​​​​​​About Canon Marketing Vietnam Company Limited:
​​​​​​​
​Canon's products reached Vietnam market in the early years of the 1980s through its authorized distributor. Over the past 14 years, Canon has marked its very active presence with the establishment of 04 factories in industrial zones such as Thang Long - Hanoi, Que Vo and Tien Son - Bac Ninh, Pho Noi - Hung Yen, and Canon Marketing Vietnam Company Limited. In addition to creating jobs for more than 25,000 people, Canon has also contributed to Vietnam's social development goals through its meaningful CSR activities. Canon Marketing Vietnam Company Limited is operating under the directions and support from Canon Asia Marketing Group, and Canon Singapore Private Limited Company, Canon's regional headquarter for South and Southeast Asia. Besides having Le Bao Minh as the Distributor, Canon also involves more than 300 dealers in Vietnam.
​​​​​​​
​​​​​​​For further information, visit www.canon.com.vn
​​​​​​​For product images, please visit: Canon Photo Library
​​​​​​​Media contacts:
​​​​​​​Ms Nguyen Thi Phuong Thao
​​​​​​​Canon Marketing Vietnam Company Limited
​​​​​​​Email: thao_nguyen@canon.com.vn