SELPHY CP1500: Print Fun Into Your Life
Canon's latest SELPHY compact photo printer is faster, better, and more fun than ever!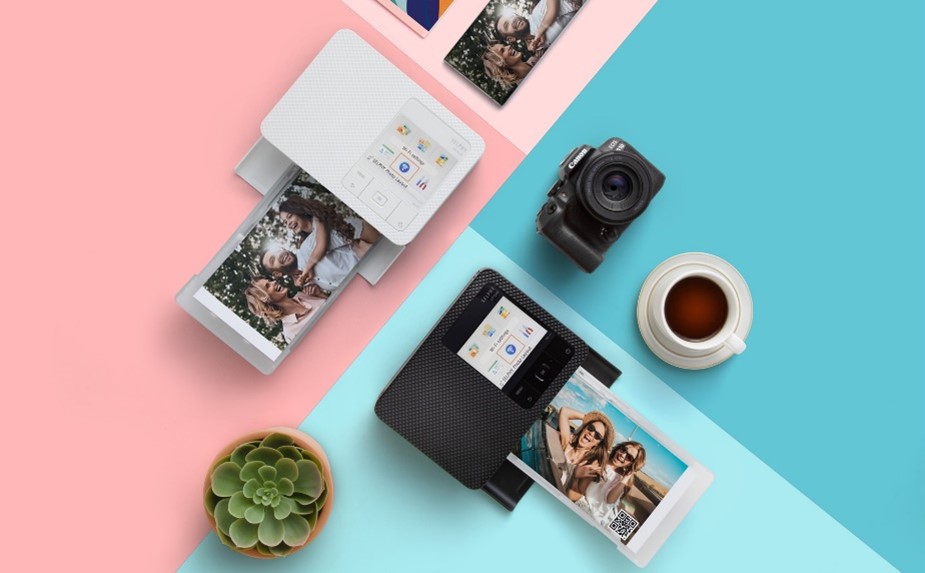 HO CHI MINH CITY, 12 July 2022– Canon today announced the SELPHY CP1500, a new wireless compact photo printer that injects fun and spontaneity into your life. The SELPHY CP1500 is easy to use and promises to delight with personalised, high quality print-outs. Be it adorning your home with your favourite photo, making creative photo projects or sharing photos taken at events, the possibilities are endless. Available in black and white, the SELPHY CP1500 takes on a clean, minimalistic design which is aesthetically pleasing to the eye.
"We take so many photos in our daily lives, that it is easy to lose track of cherished moments. With the portable SELPHY CP1500, it makes documenting and sharing moments of our lives much easier. From shoot to print, physical prints can bring people closer as they revel in the shared moments. Coupled with the new features, users can add a personal touch to make their print-out uniquely theirs." said Imasaka Daido, Director of Regional ICP Sales & Marketing, Canon Singapore.
Bringing Print to Life
There is so much more that you can do with physical photo prints. You can say that compact photo printers like SELPHY print life into digital photos! Inheriting the imaging quality of the SELPHY series, the SELPHY CP1500 further enhances the vividness of portrait prints. In addition to the use of dye sublimation technology, which enables smoother colour tones and richer gradations, the SELPHY CP1500 comes with an automatic correction function that adjusts the brightness, saturation, contrast and tones in images for a better, clearer finish.
At the end of the printing process, a special overcoat finish is applied to protect the photo from water, dirt, colour fading, and even fingerprints. Whether the photo was a quick smartphone snapshot, or a photographic work shot on a camera, it will stay in pristine condition for up to 100 years when preserved in an album [1].
Adding Your Personal Touch
With the upgraded SELPHY Photo Layout 3.0 smartphone app, the SELPHY CP1500 also lets you add patterned overcoats to decorate your photos. Frame your image with stars or fill it with cascading flowers and other patterns to your heart's desire.
Users can personalise the print further by including a QR code - whether it links to a photo album, a video, an online map with the photo location or even a secret message just for the recipient, the possibilities are endless!
Experience the Joy of Sharing Moments Instantaneously in Print
With its simple, minimalistic design, the SELPHY CP1500 is not only small and light but also easy to operate. The ease of use expands to its high connectivity. Whether it's through Wi-Fi or a USB Type-C cable, users can print images from their smartphone, camera, or computer any time—or even just by directly inserting an SD card or USB flash drive.

For users printing from a mobile device, the upgraded SELPHY Photo Layout 3.0 smartphone app, supported on iOS, iPadOS, and Android OS [2], can now also access camera or smartphone images uploaded onto image.canon, social media, or elsewhere on the cloud, allowing them to be turned into high-quality prints easily.
At any one time, up to eight smartphones can be connected to the SELPHY CP1500, so it's perfect for shared use at parties and events. Pairing is quick and easy: simply scan a QR code with the SELPHY Photo Layout app to connect and let the fun begin!
Postcard sized prints (approx. 100 x 148mm) can be made in approximately 41 seconds while card-size prints (54 x 86mm) can be made in just around 23 seconds. For added portability, the new NB-CP2LI battery pack (sold separately) provides up to 72 postcard-sized prints from a single charge—up from the 54 prints on the predecessor.
[1] Album storability is a predicted value calculated according to the indoor heat resistance test method and life evaluation criteria of the Digital Colour Photo Print Stability Evaluation (JEITA CP-3901) standard published by JEITA (Japan Electronics and Information Technology Industries Association). Predicted values are based on tests assuming album storage in an environment with a temperature of 23°C and humidity of 50%. When the monochromatic/reflective optical density value (0.5, 1.0) decreases by 30% (set for each colour unit), and the discolouration density difference of Y, M, and C components (each component colour) in BK decreases by 15% etc. are determined as limit points.
[2] Compatible with devices running iOS 14 or later, iPadOS 14 or later, or Android 8 or later.
Specifications
Model
SELPHY CP1500
Colours
Black / White
LCD Monitor
3.5" TFT LCD colour monitor (approx. 230,000 dots)
Print Speed

Postcard size: Approx. 41 sec

L size: Approx. 35 sec

Card size: Approx. 23 sec

Measured conditions: Room temperature, print speed measured from start of yellow printing to ejection of paper. With print finish set to "glossy".

Image Effects

Image Optimize, Brightness (±3 steps),

Colour Adjustment (7 x 7 steps), Filter,

Smooth Skin, Red-Eye Correction

More Print Options
Bookmark printing, 2-up fixed size print, Index print, DPOF Print, Reprint
Wi-Fi Compatible
Yes (Wi-Fi router/Direct Connection/SELPHY Photo Layout app)
AirPrint/ Mopria Compatible
Yes
Supported Memory Cards
SD card, SDHC card, SDXC card
Supported Memory Cards (with adapter)
miniSD card, miniSDHC card, microSD card, microSDHC card, microSDXC card
Supported Language
18 languages (English, German, French, Italian, Spanish, Simplified Chinese, Traditional Chinese, Russian, Portuguese, Turkish, Arabic, Korean, Thai, Hindi, Vietnamese, Malay,Japanese, Ukrainian(New))
Accessories (included)
PCPL-CP400 (Paper Cassettes)
Power Supply
Compact Power Adapter CA-CP300 B
Battery Pack
NB-CP2LI / NB-CP2LH
Dimensions
Approx. 182.2 x 57.6 x 133.0 mm
Weight
Approx. 850g
About Canon Marketing Vietnam Company Limited
Canon's products reached Vietnam market in the early years of the 1980s through its authorized distributor. Over the past 18 years, Canon has marked its very active presence with the establishment of 04 factories in industrial zones such as Thang Long - Hanoi, Que Vo and Tien Son - Bac Ninh, Pho Noi - Hung Yen, and Canon Marketing Vietnam Company Limited. In addition to creating jobs for more than 25,000 people, Canon has also contributed to Vietnam's social development goals through its meaningful CSR activities. Canon Marketing Vietnam Company Limited is operating under the directions and support from Canon Asia Marketing Group, and Canon Singapore Private Limited Company, Canon's regional headquarter for South and Southeast Asia. Besides having Le Bao Minh as the Distributor, Canon al compliant).