Canon expands its RF-mount offerings with a compact, lightweight telephoto zoom and an affordable standard prime.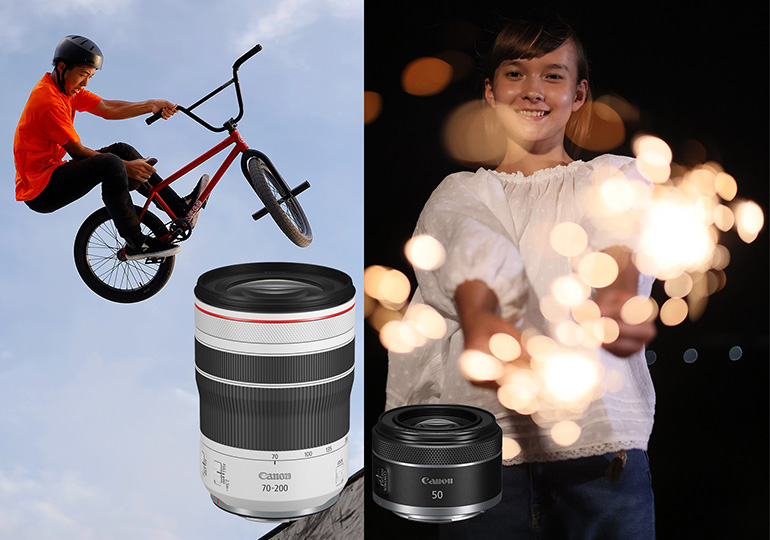 Ho Chi Minh City, 9 November 2020 – Following the highly-successful launch of its two latest mirrorless cameras, the EOS R5 and EOS R6, Canon today announced two new lenses that will expand the offerings for the RF-mount system. The world's shortest and lightest[1] 70-200mm f/4 interchangeable lens, the RF70-200mm f/4L IS USM also brings a host of new features that will entice advanced amateurs and professionals who are particular about image quality and performance. Going towards the other end of the focal length spectrum, the RF50mm f/1.8 STM is Canon's latest 50mm prime lens that is fast yet affordable.
"After the success of our recent EOS R5 and EOS R6 cameras, we are looking to provide photographers with even more lenses that will allow them to explore their photographic passions," said Udagawa Eiichi, Vice President of Regional ICP Sales & Marketing, Canon Singapore. "Whether you are looking to shoot sports, wildlife or aiming to improve your creativity by shooting with prime lenses, the new RF lenses will provide more choices for all photographers."
Small, Light, Far
Telephoto zoom lenses give you more reach, which is especially important if you like to shoot sports or wildlife. But that long reach usually comes with a cost - extra weight and size. The new RF70-200mm f/4L IS USM bucks the trend by being the world's smallest and lightest 70-200mm f/4 lens.
With most 70-200mm lenses weighing 800g and measuring an average of 176mm in length, the RF70-200mm f/4L IS USM comes in a lighter and slimmer body that weighs 695g while achieving a 32% reduction in length at just 119mm long. In fact, the RF70-200mm f/4L IS USM is only marginally longer than the RF24-105mm f4L IS USM lens.
This makes it easy to handle and carry around, and it can be stored in a bag while still attached to the camera, unlike other conventional telephoto zoom lenses which have be to removed from the camera before being stored away. The ability to start shooting right after taking the camera out from your bag means you will never miss any shooting opportunities again.
Quiet and Sharp Shots All the Time
The RF70-200mm f/4L IS USM is able to deliver high image quality throughout the entire zoom range. Even when shooting at the longest 200mm end, the lens elements are arranged to reduce vignetting, chromatic aberration and ghosting. Conversely, the 9-blade circular aperture in the RF70-200mm f/4L IS USM maximises bokeh even at the edges of the image for soft, blurry backgrounds.
The lens is also equipped with a Nano USM, Canon's latest lens motor which has excellent high-speed performance. Focusing is highly accurate at any focal length even if the subject is standing at a distance. The Nano USM is also incredibly quiet, smooth, and suppresses focus breathing, which helps to produce fluid video shots.
Not everyone shoots with a tripod and trying to keep a camera outfitted with a telephoto zoom lens steady can be a challenge, often resulting in blurry shots. RF70-200mm f/4L IS USM comes with an in-built Image Stablizer (IS) that provides up to 5-stops image stabilisation to ensure sharp images even when shooting handheld. The image stabilisation can go up to 7.5-stops when paired with either EOS R5 or EOS R6, allowing you to casually capture sharp images handheld when shooting dark scene even at the longest 200mm end.
While commonly overlooked, a lens' minimum focusing distance is an important specification. Regardless of the genre of photography you are interested in, the ability to focus at a much closer distance provides more flexibility when it comes to composing a shot. The RF70-200mm f/4L IS USM comes with a minimum focusing distance of 0.6m, which is much closer compared to the average distance of 1m for similar lenses. The reduction in minimum focusing distance also allows the RF70-200mm f/4L IS USM to achieve a maximum of 0.28x magnification.
The RF70-200mm f/4L IS USM's robust construction ensures that it is dust- and water-resistant with the extended part of the lens barrel possessing vibration and shock resistance as well. Coated with a heat shielding paint, the entire lens will perform optimally even in hot weather while the surface of the lens' front element has a fluorine coating which repels oil and water.
Getting the Prime Shot
One of the most popular focal lengths to shoot at, the humble 50mm prime lens is usually one of the first upgrades from a kit lens. The new RF50mm f/1.8 STM adds a large aperture of f/1.8 for low-light performance and those sought-after dreamy backgrounds in portrait shots. Compact and lightweight, it is ideal for street photography and snapshots without having to lug around a bulky lens.
Offering a similar field of view as the human eye, the RF50mm f/1.8 STM is also suitable for many types of photography such as portraits, landscapes, and food photography. The minimum focusing distance of 30cm means you can get closer to the food, small items, and products that you are shooting.
Despite being an affordable single focal length lens, the RF50mm f/1.8 STM has outstanding image quality due to the combination of its large aperture, the short back focus of the RF mount and the use of the PMo aspherical lens. Flaring, ghosting and coma aberration are all reduced, which results in clear, high-resolution images.
Product Specifications
RF70-200MM F/4L IS USM
RF50MM F/1.8 STM
Focal Length
70 – 200 mm
50 mm
Maximum Aperture
f/4
f/1.8
Minimum Focusing Distance

0.6 m

(throughout zoom range)

0.30 m
Maximum Magnification
0.9m (at 200 mm)
0.25x
Lens Construction
16 elements in 11 groups
6 elements in 5 groups
Special Low Dispersion Glass
Four UD
-
Filter Size Diameter
ø 77 mm
ø 43 mm
Aperture Blades
9
7
IS (CIPA Standard Correction Effect)
Yes (5 stops)
-
Maximum Diameter and length
approx. 83.5 mm x 119 mm
approx. 69.2 mmx 40.5 mm
Weight
Approx. 695 g
Approx. 160 g
[1] As of November 3, 2020. Based on Canon's research.
About Canon Marketing Vietnam Company Limited:
Canon's products reached Vietnam market in the early years of the 1980s through its authorized distributor. Over the past 18 years, Canon has marked its very active presence with the establishment of 04 factories in industrial zones such as Thang Long - Hanoi, Que Vo and Tien Son - Bac Ninh, Pho Noi - Hung Yen, and Canon Marketing Vietnam Company Limited. In addition to creating jobs for more than 25,000 people, Canon has also contributed to Vietnam's social development goals through its meaningful CSR activities. Canon Marketing Vietnam Company Limited is operating under the directions and support from Canon Asia Marketing Group, and Canon Singapore Private Limited Company, Canon's regional headquarter for South and Southeast Asia. Besides having Le Bao Minh as the Distributor, Canon also involves more than 300 dealers in Vietnam.
For further information, visit www.canon.com.vn
For product images, please visit: Canon Photo Library
Media contacts:
Ms Nguyen Thi Phuong Thao
Canon Marketing Vietnam Company Limited
Email: thao_nguyen@canon.com.vn