Elevate your Photography with the Intuitive EOS 850D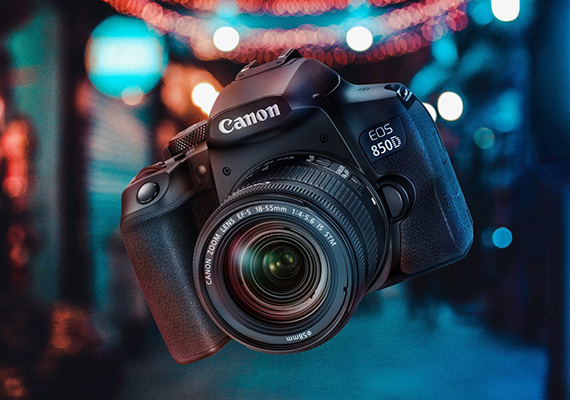 Ho Chi Minh City, 16 June 2020 - Canon today launched the brand new EOS 850D, powered with advanced technology such as Dual Pixel CMOS AF, EOS Intelligent Tracking and Recognition Auto Focus (iTR AF) for face detection and 4K video recording for crisp and smooth footage. The EOS 850D is the ideal camera for those looking to step up from smartphone photography or those looking to upgrade to a DSLR, offering great versatility of use across genres.

"The EOS 850D combines many semi-pro features of a DSLR in an affordable package that is great for both stills and videos," said Satoru Takeda, General Director of Canon Marketing Vietnam. "With advanced capabilities and packed into a compact body, the EOS 850D is the perfect companion for those looking to shoot landscapes, their travels, sports and daily life."
Compact in Size but Big on Features

Weighing approximately 515g, the EOS 850D comes with a 24.1-megapixel APS-C size CMOS sensor and DIGIC 8 imaging processor for superior image quality. With an improved max ISO performance to 25,600 for still images and expandable to 51,200, the EOS 850D possesses exceptional low-light capability and is perfect for shooting at night and in dark places.
​​​​​​​
​​​​​​​​​​​​​​The EOS 850D also comes with an optical viewfinder that is equipped with excellent shooting performance and controls. During viewfinder shooting of up to 7 fps, users will not experience any time lag, and with all cross-type 45 point AF, a wider area can be covered to allow flexibility in composing and tracking. With EOS iTR AF, subject tracking performance will be enhanced through a face detection function, which enables users to detect faces even in environments where skin colour detection is lost against the background. It is made possible with information from the 220,000-pixel RGB+IR metering sensor.
​​​​​​​
​​​​​​​During Live View shooting, Dual Pixel CMOS AF on the EOS 850D makes it possible to achieve high-speed AF. When it is paired with a compatible lens, AF is possible in an approximately 88% horizontal by 100% vertical area, allowing more freedom in composition. With free composition, users are able to achieve fast and comfortable Live View shooting with the EOS 850D. Since the EOS 850D can specify any position from a maximum of 3,975 AF positions, it is possible to move the AF point smoothly, making it easier to pinpoint AF on the subject and focus as desired.
​​​​​​​
​​​​​​​Additionally, Eye Detection AF is available on the EOS 850D, enabling the camera to automatically focus on the eyes of the human subject and allowing the user to focus on capturing natural expressions while ensuring a sharp focus, even when the subject is in motion.
​​​​​​​
​​​​​​​Operation-wise, the new Quick Control Dial allows for easy setting changes and image search. Located in positions on the camera body that can be easily accessed, users can quickly change camera settings by simply turning the dials. Additionally, the new AF-ON button on the back of the EOS 850D allows the user to operate autofocus separately. When shooting a moving subject, pressing the AF-ON button allows the camera to keep tracking the subject with AI Servo AF and the shutter release button allows the user to concentrate on timings their shots perfectly and not miss out on crucial moments.
​​​​​​​
​​​​​​​A Great Movie Shooting Companion
​​​​​​​
​​​​​​​On top of its advanced features for stills, the EOS 850D is able to record 4K UHD video in 23.98p/25p format for a cinematic feel and Full HD video in 59.94p/50p format. The 4K time-lapse movie function allows users to easily capture stunning day-to-night time-lapse movies of cityscapes in ultra-high resolution through a selection of pre-set scenes or simple manual settings.
​​​​​​​
​​​​​​​The EOS 850D also incorporates in-body electronic Image Stabilization to enable "Movie digital IS" for steady vlog or handheld movies. The 3-inch 1.04 million-dot Vari-angle touch panel LCD monitor makes it easy to shoot video from high or low angles.
​​​​​​​
​​​​​​​Users can expect seamless connectivity with Wi-Fi available on the camera for easy transfer of images to smartphones and laptops. Bluetooth Low Energy (BLE) is also available for remote shooting with smartphones through the Canon Camera Connect app.
​​​​​​​​​​​​​​​​​Product Specifications
​​​​​​​​
Camera Model
EOS 850D
Image Processor
DIGIC 8
Image SensorCamera Effective Pixels (total pixels)
APS-C size CMOS
​​​​​​​Approx. 24.1 megapixels
​​​​​​​(Approx. 25.8 megapixels)
Exposure Control
Approx. 220,000 dot RGB + IR metering sensor 216-zone (18 x 12) full-aperture TTL metering
Viewfinder AF
All cross-type 45-point (27-point f/8 compatible, 9-point cross)
​​​​​​​Single-point AF, Zone AF, Large Zone AF EOS iTR AF (face detection)
Focal Plane AF
Dual Pixel CMOS AF
​​​​​​​Image display area max horizontal approx. 88% x vertical approx.
​​​​​​​100% Number of AF area segments: max 143 zones[1] 4K movie: Contrast AF
Still Image Normal Max ISO Speed
ISO 25600H
​​​​​​​(ISO 51200 equivalent)
Movie Normal Max ISO Speed
ISO 12800 (ISO expansion 25600 equivalent)
​​​​​​​4K movie: ISO 6400
Continuous Shooting
Max. approx. 7.0 fps
​​​​​​​(during viewfinder shooting, AF fixed/tracking)
​​​​​​​Max approx. 7.5 fps
​​​​​​​(during Live View shooting, AF fixed)
​​​​​​​Max approx. 4.5 fps
​​​​​​​(during Live View shooting, AF tracking)
Max Shutter Speed
1/4000 sec.
​​​​​​​(mechanical 1st curtain, electronic 1st curtain)
LCD Monitor
3.0-type, approx. 1.04 million dot, Vari-angle touch panel
Movie
4K 23.98p/25p Crop
Size
Approx. 131.0 x 102.6 x 76.2 mm
Weight[2]
Approx. 515 g
Network
Wi-Fi / Bluetooth Low Energy
Other
Quick Control Dial
About Canon Marketing Vietnam Company Limited:
​​​​​​​
Canon's products reached Vietnam market in the early years of the 1980s through its authorized distributor. Over the past 14 years, Canon has marked its very active presence with the establishment of 04 factories in industrial zones such as Thang Long - Hanoi, Que Vo and Tien Son - Bac Ninh, Pho Noi - Hung Yen, and Canon Marketing Vietnam Company Limited. In addition to creating jobs for more than 25,000 people, Canon has also contributed to Vietnam's social development goals through its meaningful CSR activities. Canon Marketing Vietnam Company Limited is operating under the directions and support from Canon Asia Marketing Group, and Canon Singapore Private Limited Company, Canon's regional headquarter for South and Southeast Asia. Besides having Le Bao Minh as the Distributor, Canon also involves more than 300 dealers in Vietnam.
​​​​​​​
For further information, visit www.canon.com.vn
For product images, please visit: Canon Photo Library
Media contacts:
Ms Tran Thi Thuy Loan
Canon Marketing Vietnam Company Limited
Email: tran_loan@canon.com.vn
​​​​​​​
​​​​​​​[1] With some lenses, the AF area will be approx. 80% x approx. 80%, and the number of AF area segments will be max. 99 zones (11 x 9)
​​​​​​​[2] Includes battery and SD memory card (according to CIPA guidelines).
Product Detail