Canon Launches First Super-Telephoto L Zoom Lens for Its RF System Cameras
The new RF100-500mm f/4.5-7.1L IS USM offers the EOS R system a lightweight design with an expanded 500mm focal length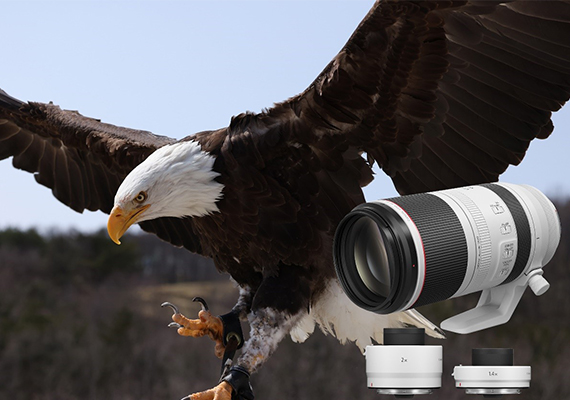 Ho Chi Minh City, 15 July 2020 - Canon today introduced its first super-telephoto L zoom lens, the RF100-500mm f/4.5-7.1L IS USM, for its R-series full-frame mirrorless cameras. Designed for professional and advanced amateur photographers, the new lens lets users shoot even further with its focal length of 500mm. The RF100-500mm f/4.5-7.1L IS USM is the RF version of the popular EF100-400mm f/4.5-5.6L IS II USM lens, which is known for its wide zoom range and versatility across various applications such as sports, wildlife and nature photography, as well as photojournalism.

"The RF100-500mm f/4.5-7.1L IS USM is the next evolution of the versatile and popular EF100-400mm f/4.5-5.6L IS II USM lens that was introduced in 2014," said Satoru Takeda, General Director of Canon Marketing Vietnam. "This highly anticipated addition of Canon's next generation super-telephoto L zoom lens will leverage the technical advantages of the EOS-R system and continue to meet the demands of professional and advanced amateur photographers."
Extra Reach in a Lightweight Package

Despite being similar in size to the EF100-400mm f/4.5-5.6L IS II USM lens, the RF100-500mm f/4.5-7.1L IS USM is 15% lighter in weight and has an additional 100mm reach. With a 5x zoom ratio, the RF100-500mm f/4.5-7.1L IS USM covers the medium telephoto (100mm) to super-telephoto range (500mm).
​​​​​​​
The lens' large diameter RF mount allows for a short lens back focus, and the six UD lenses and one super UD lens within the RF100-500mm f/4.5-7.1L IS USM are arranged near the focal plane surface. The ASC (Air Sphere Coating) on the lens elements is also used to reduce ghosting. All this work together to correct optical aberrations and deliver images that are sharp from edge to edge regardless of which focal length a user shoots at.
​​​​​​​
The RF100-500mm f/4.5-7.1L IS USM's well-engineered dust and drip-resistant construction lets it perform at its best even in demanding situations. The lens' heat-shield white paint suppresses heat from building up within the barrel of the lens, maintaining image quality even when shooting under the hot sun.
Sharper Images even at Slower Shutter Speeds with In-Lens Image Stabilizer (IS)​​​​​​​
The RF100-500mm f/4.5-7.1L IS USM has Canon's unique Optical Image Stabilizer mechanism that achieves image stabilisation of up to five shutter speed stops by revising the control algorithm of the optical IS and using Dual Sensing IS.
​​​​​​​
​​​​​​​The lens is also equipped with a stabiliser mode selection switch, where users can toggle between three IS modes based on the movements of the subjects they are shooting:
IS mode 1 is best suited for stationary subjects
​​​​​​​IS mode 2 is used for panning shots
​​​​​​​IS mode 3 is suitable for subjects with irregular movements, such as during basketball where movements of players can be unpredictable​​​​​​​
​​​​​​​The Canon EOS R5 and EOS R6 camera bodies both possess in-body 5-axis image stabilisation. When either camera is used with the RF100-500mm f/4.5-7.1L IS USM, an IS effectiveness of six stops is achieved (based on CIPA testing standards) at 500mm focal length. This is achieved through the coordinated controls between the camera's and lens' IS. Motion blur is reduced and users get sharper images even while shooting at 500mm focal length. Users can shoot at lower shutter speed in dim situations to achieve brighter shots, expanding the possibilities for handheld shooting.​​​​​​​​​​​​​​​​​​​​​
​​​​​​​​​​​​​​
Shoot Faster and Closer
Equipped with two Nano Ultrasonic Motors (USM) which help autofocus (AF) faster, the RF100-500mm f/4.5-7.1L IS USM achieves high-speed, high-precision still image AF and smooth movie AF in combination with the EOS R-series cameras' Dual Pixel CMOS AF. By using two Nano USMs to drive the lens, power saving and high-speed operation is achieved without compromising the size. Users will be able to shoot fast-moving animals, vehicles, or sports athletes without any issue.
​​​​​​​
The RF100-500mm f/4.5-7.1L IS USM's unique electronic floating focus control has also made focusing at a mere 0.9m possible and the RF100-500mm f/4.5-7.1L IS USM is capable of achieving 0.33x magnification on the 500mm focal length (focusing distance of 1.2m) allowing users to focus on close-up objects with ease. With such a short focusing distance and large magnification, users now have more room for creativity in their photography.
​​​​​​​​​​​​​​​​​​​​​​​​​​​​
Going Even Further with the Extender RF 1.4x and Extender RF 2x​​​​​​​
Canon also introduces two new dedicated 1.4x and 2x extenders, the Extender RF 1.4x and Extender RF 2x. Both of which are compatible with three lenses launching today, the RF100-500mm f/4.5-7.1L IS USM, RF600mm f/11 IS STM and RF800mm f/11 IS STM. With the high resolution of the RF lenses, the Extender RF 1.4x and Extender RF 2x can easily perform super-telephoto shooting by extending the focal length by 1.4x or 2x without compromising on image quality—achieving up to 1000mm on RF100-500mm f/4.5-7.1L IS USM and up to an astonishing 1600mm on the RF800mm f/11 IS STM.
​​​​​​​
The Extender RF 1.4x and Extender RF 2x both achieve high image quality and a smaller size with an optical design that utilizes the large diameter mount and short back focus unique to the RF mounts. The total length of the new extenders (length from the mount on the body side to the mount on the lens side) has been reduced by 25% compared to the Extender EF 1.4xIII and Extender EF 2xIII. The extenders utilise the latest high-refractive-power, low-dispersion glass material to greatly reduce chromatic aberrations. The three cemented lens elements with special coating in the Extender RF 1.4x and Extender RF 2x help reduce the air contact surface as much as possible, effectively reducing ghosting that tends to occur with extenders.
​​​​​​​
​​​​​​​Both extenders inherit the heat-shielding white paint from telephoto L lenses. Designed with built-in microprocessors, the extenders also allow for better communications between the lens and camera to achieve the same high precision AF as though the user is shooting without an extender.
​​​​​​​
​​​​​​​The vibration and impact resistant structure along with the dust and drip-resistant construction of both extenders are designed to be reliable and durable for professional and advanced amateur users.
Product Specifications
​​​​​​​​​​​​​​
Model
RF100-500mm f/4.5-7.1 L IS USM
Extender RF 1.4x
Extender RF 2x
Mount
RF
Focal Length
100-500mm
-
-
Maximum Aperture
4.5-7.1
-
-
Minimum Aperture
31-51
-
-
Minimum Focusing Distance
0.9m (at 100mm)
​​​​​​​1m (at 300mm)
​​​​​​​1.2m (at 500mm)
-
-
Maximum Magnification
0.12x (at 100mm)
​​​​​​​0.33x (at 500mm)
-
-
Lens Construction
20 elements in 14 groups
7 elements in 4 groups
9 elements in 5 groups
Aspherical Lens
One super UDSix UD
-
-
Special Coating
Super Spectra Coating,
ASC,
Fluorine Coating
Super Spectra Coating
Super Spectra Coating
Dust Resistance, Water Resistance
Provided
Provided
Provided
Aperture Blades
9
-
-
IS (CIPA Standard Correction Effect)
5 stop
-
-
Filter Diameter
Φ77 mm
-
-
Maximum Diameter and Length
ø93.8 x 207.6 (wide)
​​​​​​​ø93.8 x 297.6 (tele)
ø71.2 × 20.3
ø71.2 × 39.3
Weight
Approx. 1370 g
Approx. 225 g
Approx. 340 g
About Canon Marketing Vietnam Company Limited:
Canon's products reached Vietnam market in the early years of the 1980s through its authorized distributor. Over the past 14 years, Canon has marked its very active presence with the establishment of 04 factories in industrial zones such as Thang Long - Hanoi, Que Vo and Tien Son - Bac Ninh, Pho Noi - Hung Yen, and Canon Marketing Vietnam Company Limited. In addition to creating jobs for more than 25,000 people, Canon has also contributed to Vietnam's social development goals through its meaningful CSR activities. Canon Marketing Vietnam Company Limited is operating under the directions and support from Canon Asia Marketing Group, and Canon Singapore Private Limited Company, Canon's regional headquarter for South and Southeast Asia. Besides having Le Bao Minh as the Distributor, Canon also involves more than 300 dealers in Vietnam.
​​​​​​​
For further information, visit www.canon.com.vn
For product images, please visit: Canon Photo Library
Media contacts:Ms Nguyen Thi Phuong Thao
Canon Marketing Vietnam Company Limited
​​​​​​​Email: thao_nguyen@canon.com.vn