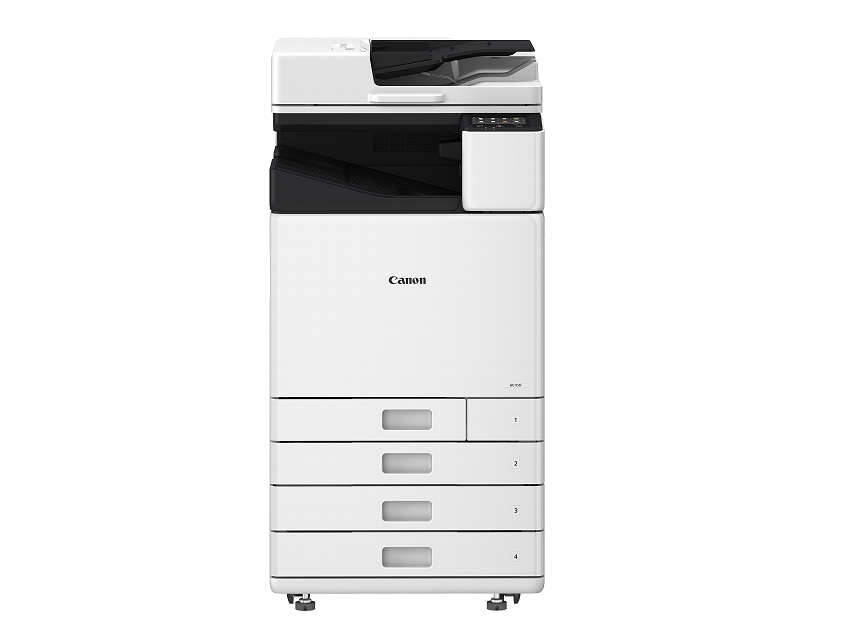 Ho Chi Minh City, 06th June 2019 - Today, during the 4th International Exhibition of Telecommunication, Information Technology & Communication (ICT COMM), Canon launched its WG7700 series, which is the first A3 multifunction inkjet printer line in Vietnam for small and medium enterprises. This squad of A3 multifunction inkjet printers to firstly land in Vietnam includes WG7740 and WG7750F, which take the shape of a photocopier (multifunction device - MFD) and are equipped with outstanding features such as A3 printing, scanning, and copying at the speed of 80 ppm (paper per minute) and FINE technology (Full-Photolithography Inkjet Nozzle Engineering) for high-quality output on plain paper. With these unique innovations, small and medium enterprises who have frequent A3 size printing needs will find WG7740 and WG7750F an optimal choice as these two models boost business performance and lower the printing cost remarkably.
New In-Line Print Head & Quick Drying Ink Technology
The printhead integrated with FINE (Full-Photolithography Inkjet Nozzle Engineering) technology is the notable feature in this WG7700 series that uplifts the printing efficiency. Spanning the entire width of paper, the print head remains stationary during printing while ultra-fast paper passes streak under the ink nozzles to generate fast print speeds.
In addition, a unique array of ink nozzle chips counter disturbances in airflow caused by paper movement at high speeds near ink nozzles, allowing stable placement of ink droplets and excellent image quality.
To prevent ink clogging, a new In-nozzle ink circulation technology maintains constant ink density within the print head and stabilises ink discharge. Besides, new dual-sensor ink discharge detection technologies ensures stable ink ejection, while the new quick-drying pigment ink is infused with a special resin emulsion that locks in higher colour density while preventing paper from curling. All these technologies come together to deliver high quality prints with razor sharp text and rich colour reproduction.
Large Ink Tank Enables Higher Output with Greater Savings
High capacity ink bottles are available so that business can enjoy up to 20,000 pages of uninterrupted printing for monochrome documents, and up to 16,500 pages for colour. For more efficient management of paper supplies and continuous print jobs, the WG7700 series also support up to 2,250 sheets of paper input with the optional cassette (CF10) installed.
Auto Document Feeder (Single Pass 2-Sided ADF)
The Auto Document Feeder (ADF) in the WG7700 series supports speedy scanning at 40 ipm (image per minute) for 1-sided documents. The dual Contact Image Sensor (CIS) design enables fast duplex scanning at 65 ipm, increases 2-sided printing speed, adding further values to businesses.
Unique Paper Path
Unlike electro-photographic (EP) printing techniques employed by laser and LED printers, or many other inkjet multifunction devices, the WG7700 series employ a unique paper path with gentle curves that approach straight-line paper feeding. The print head is also positioned at an angle to allow printing without to the streamlined paper path, reducing stress on the paper during the print process and leading to lower incidence of paper jams.
This unique design is coupled with paper jam-recovery covers that open only on the paper path-side of the device, allowing the printer to be placed along a wall, or even in a corner of the utility room, and makes clearing of paper jams easy.
Lowering consumables and easier maintenance
The WG7700 series employ 5 types of consumables: 4 ink bottles (Black, Cyan, Magenta, and Yellow) available in XL and XXL capacities to cater for offices with different printing demands, and a user-replaceable maintenance cartridge (MC50), simplifying supplies management to ensure minimal downtime and uninterrupted printing.
Superior User Experience with 5-inch touchscreen
A 5-inch colour touch-screen houses a slick user interface (UI) with high resolution icons, delivering a professional and pleasant experience when navigating device functions. The touch-screen supports switching to a full-scale keyboard or numeric keypad for data input and fax operations.
Multi-language support and powerful network connection
Canon UFR II, PCL6, PCL XL, and Postscript3 print languages are a standard configuration on the WG7700 series, making them compatible with most printing network architectures without the need to install additional ROM modules.
Canon SEND technology allows workgroup users to distribute scanned documents to multiple network destinations. These range from individual or group email addresses, to local mail boxes, network folders and document management systems. With SEND technology, users can enjoy a more streamlined and efficient workflow.
Low power consumption
Unlike laser or LED printing technology that require heating to the fuser element, the WG7700 series printers are also extremely power efficient, with Energy Start Typical Electricity Consumption (TEC) rating of approximately 1.25kWh/week.
With the optimized performance, ease of use, and the modern energy-saving capability, WG7700 series will bring excellent speed and productivity to small and medium enterprises.
Canon WG7740 and WG7750F under the WG7700 series will be available at all Canon's authorized dealers in June 2019 with its retail prices of 150 million dong and 180 million dong (VAT included) respectively.
On this occasion, Canon also launches its "Canon - a solution to boost up your businesses" campaign, which promotes 04 solutions: Sharp image solution (which are cameras, small-size to big-size photo printer, scanner), Outstanding presentation solution (which are projectors, laser pointers, camcorders for broadcasting companies or film-makers), Smart printing solution (which are office devices integrated with Uniflow and document-digitalizing Therefore software for a wide range of needs in small to large companies), and Optimal security solutions (which are surveillance cameras conquering any darkness, and secure printing UniFlow solution). These solutions have been widely implemented at medium to large corporations in the world as well as in Vietnam, helping them save 20% of printing costs and paper, and boost up 30% of their productivity. During this occasion, Canon gives free hands-on experience with these products5 and offers attractive product packages as well as promotions and free installations. For further details, customers can call the Hotline 028 38200466 (Ho Chi Minh City), 024 37711677 (Hanoi) (from 09:00 to 12:00, 14:00 to 17:00) or e-mail: cmv@canon.com.vn
About Canon Marketing Vietnam Company Limited:
Canon's products reached Vietnam market in the early years of the 1980s through its authorized distributor. Over the past 14 years, Canon has marked its very active presence with the establishment of 04 factories in industrial zones such as Thang Long - Hanoi, Que Vo and Tien Son - Bac Ninh, Pho Noi - Hung Yen, and Canon Marketing Vietnam Company Limited. In addition to creating jobs for more than 25,000 people, Canon has also contributed to Vietnam's social development goals through its meaningful CSR activities. Canon Marketing Vietnam Company Limited is operating under the directions and support from Canon Asia Marketing Group, and Canon Singapore Private Limited Company, Canon's regional headquarter for South and Southeast Asia. Besides having Le Bao Minh as the Distributor, Canon also involves more than 300 dealers in Vietnam.
For further information, visit www.canon.com.vn
For product images, please visit: Canon Photo Library
Media contacts:
Ms Tran Thi Thuy Loan
Canon Marketing Vietnam Company Limited
Email: tran_loan@canon.com.vn