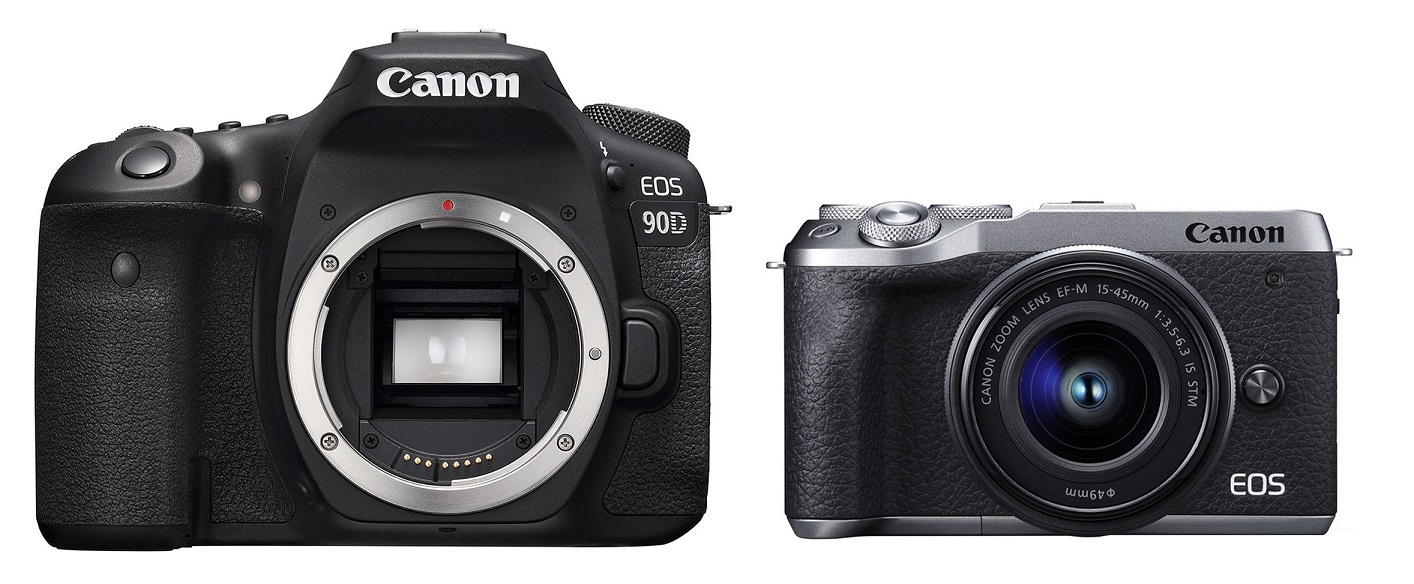 Ho Chi Minh City, 29th October 2019 - Today Canon announed two latest additions to its EOS camera line-up that share several features but differ remarkably in designs EOS M6 Mark II, a compact and lightweight mirrorless camera, and EOS 90D, a DSLR camera and also a predecessor of EOS 80D, share the same 32.5 megapixel APS-C CMOS Sensor. This has given these two models the top position in resolution for APS-C cameras, in both mirrorless camera and DSLR category.
The many similarities
The sensors, the image processor, and the uncropped 4K movie shooting are the most visible common points between EOS M6 Mark II and EOS 90D.
DIGIC 8 image processor and 32.5 megapixel CMOS
You will never miss out on any precious moments in life – both spontaneous and planned - with EOS M6 Mark II and EOS 90D. With the power of Canon's latest DIGIC 8 image processor, these two additions deliver top-notch shooting performance in their compact and delicate designs. In addition, 32.5 megapixel CMOS gives users the creative freedom they need to capture vivid sunset shots under low-light conditions and landscape images with smooth tonal gradation under high-contrast conditions. The capability of shooting a wide range of scenes and expressions truly makes the EOS M6 Mark II and EOS 90D trusty companions for any and every occasion. From shooting picturesque mountain ranges to capturing the atmosphere of a bustling night market, the EOS M6 Mark II and EOS 90D deliver pictures in stunning clarity and vibrant colours.
Dual Pixel CMOS enables AF tracking with up to 5,481 points and Eye-Detection AF
Fast moving subjects such as children, pets, vehicles, or sport scenes are usually a challenge to shoot – but with the EOS M6 Mark II and EOS 90D, this has become hassle-free. Designed with Canon's proprietary technology Dual Pixel CMOS Auto Focus, with high-precision AF Tracking and Eye-Detection AF, subjects constantly in motion will stay in focus, resulting in high-quality images that are crisp and sharp. With up to 5,481 AF positions to choose from, users will have all the flexibility they need when it comes to changing the focus position in the frame frequently and adjusting it to their preference.
With an impressive low-light focusing limit of EV-5, the EOS M6 Mark II and EOS 90D are able to focus on subjects with high precision in dark conditions, such as a dimly-lit street or at home with soft lighting.
A shooting speed of up to 30 fps
Both EOS M6 Mark II and EOS 90D are capable of up to 30 fps continuous shooting in RAW burst mode, allowing users to take multiple images in rapid-fire succession and subsequently giving them the power of choice in selecting their favourite shots. The electronic shutters in both camera models will appeal to photographers as they can shoot stealthily and confidently without having to worry about the shutter sound startling or disrupting their subjects.
Uncropped 4K movie shooting
Never hesitate to venture into the world of movie-making with the EOS M6 Mark II and EOS 90D, which give users the creative freedom and flexibility they need to explore different styles of filming. With the option to shoot 4K movies with no cropping, users will be able to get the full field of view of their lens and see the images come to life. These two camera models also allow you to produce super slow-motion scenes by shooting at 120p/100p in Full High Definition (FHD). You can now shoot wide-angle footage of events and slow them down stylistically, offering their viewers a different point of view.
Easy and seamless connectivity
With the Bluetooth Low Energy technology that enables users to stay connected to their smart devices and the built-in Wi-Fi connectivity, EOS M6 Mark II and EOS 90D allow users to upload photos and videos directly to social media platforms without the need for a computer. Transferring 4K videos from the cameras is also a cinch, as they will be automatically compressed to Full HD before transferring. Content can also be transferred to your computer effortlessly for editing or backup.
Additionally, smartphones can be turned into live viewfinders and even be used as a remote control to capture images or shoot videos on the cameras, all possible with the Canon Camera Connect app.
A unique experience
Overall design
Canon EOS M6 Mark II inherits its signature compact and lightweight which is typical of the EOS M series with a weight of approximately 408g and a dimension of approximately 119.6 × 70.0 × 49.2 mm. "Form and function are at the heart of EOS M6 Mark II's design, turning this new camera model into a perfect "half-blood" child of a compact camera and a DSLR to suit users looking for a handy and user-friendly camera to capture life's precious moments or epic vacation shots," said Mr. Satoru Takeda, General Director of Canon Marketing Vietnam.
While EOS M6 Mark II is unrivalled in terms of compactness, for other DSLRs, EOS 90D is highly operable and compact in its design. Besides, EOS 90D carries with it the water and dust resistance capability, and is also designed to give users the operability demanded by professionals and sought after by advanced amateurs as well.
Viewfinder AF
As a DSLR camera, EOS 90D deploys an optical viewfinder, while EOS M6 Mark II has no viewfinder. Both of these camera models employ the Dual Pixel CMOS AF; however, EOS M6 wholly relies on this focusing technology for Live View shooting and viewfinder shooting (external viewfinder is sold separately). For EOS 90D, in addition to the Dual Pixel CMOS for Live View, this camera model has its AF sensor dedicated for viewfinder shooting with 45 cross-type AF points (27-point f/8 compatible, 9-point cross).
Choice of lenses
Canon EOS 90D is compatible with all Canon's EF-S and EF lenses. Reversely, only eight EF-M lenses are compatible with EOS M6 Mark II. However, users can confidently use the Canon EF-EOS M lens mount adapter (sold separately) to expand the range of compatible EF-S and EF lenses for EOS M6 Mark II.
Battery life
EOS 90D is capable of up to 1,300 photos with fully charged LP-E6N, while EOS M6 Mark II can only shoot 305 photos with its LP-E17 battery.
*

Pricing and product availability

M6 Mark II

M6 Mark II

Body

M6 Mark II

EF-M15-45

M6 Mark II

EF-M18-150
Retail price (including VAT)
25,000,000
28,000,000
36,000,000
EOS 90D

EOS 90D

Body

EOS 90D

KIT 18-55mm

EOS 90D

KIT 18-135mm
Retail price (including VAT)
36,000,000
40,000,000
48,000,000
*Prices are estimated retail prices and are subject to change at any time without notice
About Canon Marketing Vietnam Company Limited:
Canon's products reached Vietnam market in the early years of the 1980s through its authorized distributor. Over the past 14 years, Canon has marked its very active presence with the establishment of 04 factories in industrial zones such as Thang Long - Hanoi, Que Vo and Tien Son - Bac Ninh, Pho Noi - Hung Yen, and Canon Marketing Vietnam Company Limited. In addition to creating jobs for more than 25,000 people, Canon has also contributed to Vietnam's social development goals through its meaningful CSR activities. Canon Marketing Vietnam Company Limited is operating under the directions and support from Canon Asia Marketing Group, and Canon Singapore Private Limited Company, Canon's regional headquarter for South and Southeast Asia. Besides having Le Bao Minh as the Distributor, Canon also involves more than 300 dealers in Vietnam.
For further information, visit www.canon.com.vn
For product images, please visit: Canon Photo Library
Media contacts:
Ms Tran Thi Thuy Loan
Canon Marketing Vietnam
Email: tran_loan@canon.com.vn