CANON MARKETING VIETNAM LAUNCHES ALL-IN-ONE SOLUTION FOR SAFE ENTRY TO RETAIL AND OFFICES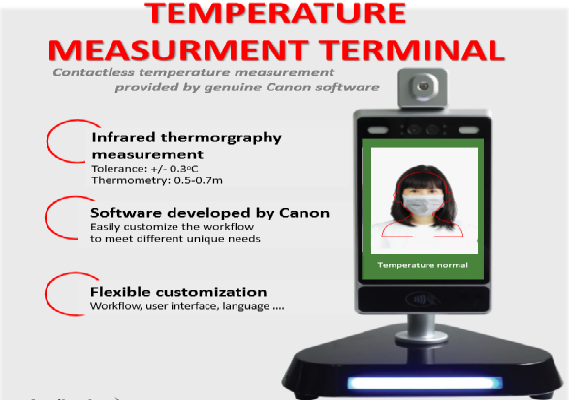 Vietnam, 26 Aug 2020 – Canon Marketing Vietnam announced today the launch of a digital check-in solution which enables businesses to facilitate contactless, fast and easy temperature screening and entry/exit recording for staff and customers. The solution, which is known as Facial Access Control* Temperature System (FACTS), uses an 8-inch tablet (1) which combines the functions of a camera, infrared thermography, near-field communication (NFC) device, barcode scanner (optional) and data storage.
A key barrier to having a fast digital-check in process is the need to use multiple devices such as a thermometer, camera and barcode (optional) scanner to get the visitor's temperature and identity separately. By using FACTS, visitors can complete their safe entry digital check-in within a few seconds. This is possible with a software which integrates several functions including facial detection (optional), infrared thermography, barcode scanning (optional) and data entry and storage in the device.
To check in, visitors should stand within 0.5 to 0.7 metre from the device to have their temperature screened via the infrared thermography. If the visitor's temperature is within a predetermined range, a green text box will be shown to indicate that the visitor has passed the temperature screening. This will be accompanied by an automated voice message which says, "Temperature normal". The device will then request for the visitor's identity by manually or with optional which can be quickly obtained by scanning the visitor's identification cards such as NRIC (the latest digital version is also accepted) and driver's license at the barcode scanner. The device also can be set to automatically take a photo of the visitor, if required. It takes just a few seconds to complete the entire process.
With the multiple functions of FACTS, there is no need for additional manpower to support functions such as checking temperatures.
Accurate temperature screening
The ability to detect elevated body temperature serves as the basic check on whether the visitor is well and fit enough to enter the premise. By standing within a 0.5 to 0.7 metre from the device, it can detect whether the visitor's temperature is within the acceptable predetermined range with an accuracy of ± 0.3 degrees Celsius within just a few seconds. This is possible with the device's in-built infrared thermography, which detects surface skin temperature on the forehead of visitors.
As the device only detects a single visitor's temperature in close proximity, the temperature measured is also more accurate than larger thermal scanners as it is less likely to be affected by environmental conditions.
Flexible for workflow customization
With Canon exclusive software can help customers with the workflow that can be customized by customer request depending on whether what they want to input visitor information first then the device measures the temperature or the device would check the temperature first and the visitor will need to input their information later and so on. Therefore the situation may decide the workflow which customer needs.
In addition, Canon's solutions can be tailored to suit each customer's different problems.
One of the key difference of this system is the Flexible & Quick customization which customers can customize their workflow, UI (User Interface) and Language as their requirement…
There are two versions of this solution: the basic license for standalone application and the server license for centralization management with a customer own PC/server that help customers to download and get the log file from all tablets with the maximum is 20 devices. For the stand, customer can choose many kinds of stands such as: Tall stand with or without Light, Desktop stands with or without light, Wallted mount or turnstile by their real situation.
The first phase of this solution is only focus on temperature measurement, next phase would be the version of facial recognition* as well as the integration with access control system*
*The features are not available at the moment, Canon will inform when they are available.
For purchasing:
FACTS is now available at Le Bao Minh Co., Ltd – the unique Canon distributor. Kindly find the address below:
Head quarter: No.184 Nam Ky Khoi Nghia Street, District 3, Ho Chi Minh city.
Hanoi Branch: No.130A Giang Vo, Ba Dinh, Ha Noi
Hotline: 1900 5588 09
Email: 1900558809@lbm.vn
Website: www.lbm.vn
For media, kindly contact:
Ms. Tran Phuong Ly – Corporate Communication Dept.
Công ty Canon Marketing Vietnam
Email: ly_tran@canon.com.vn