Canon thông báo cập nhật firmware miễn phí cho màn hình 4K chuyên nghiệp giúp tăng hiệu suất sản xuất phim 4K HDR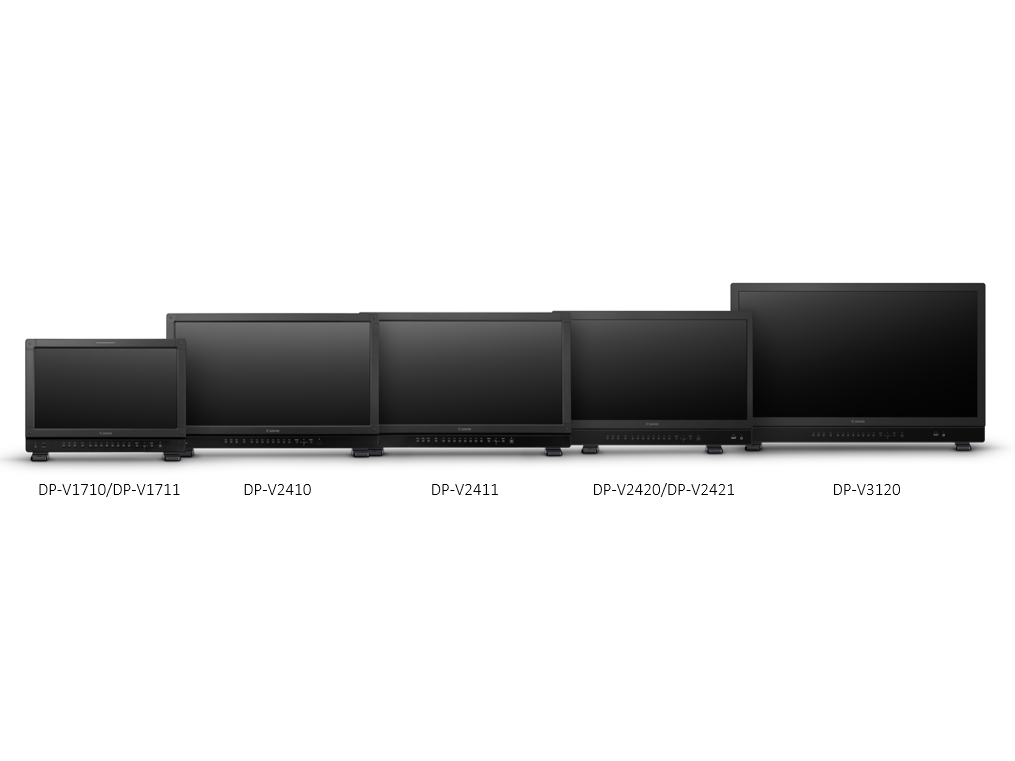 Ho Chi Minh City, 14 May 2020 – Canon announced today that the company will make available in mid-June 2020 free firmware[1] updates for seven models of professional 4K reference displays – the DP-V3120, DP-V2421, DP-V2420, DP-V2411, DP-V2410, DP-V1711, and DP-V1710 – aiming to improve various functions and performance. By contributing to improved user convenience, this supports the strengthening of 4K/HDR (high dynamic range) video production.

Canon's professional 4K displays have been regularly enhanced in functionality by providing firmware that meets the needs of video production environments. The HDR monitoring assist function available since June 2018 has been well-received by users, including receiving the industry's prestigious 2018 HPA[2] Engineering Excellence Award. Provision of this firmware will further enhance user convenience and support the strengthening of video production.
Supports .cube LUT, a File Format Widely Used in the Video Production Industry
​​​​​​​In video production environments, workflows that perform batch conversion of colour gamut and gradation using an LUT (Lookup Table) and perform editing are widespread. This newly provided firmware supports reading of 3D-LUT/1D-LUT files in the .cube file format widely used in the video production industry. This results in a streamlined, convenient process to preview custom color grading that content producers require both on set and in post processing.
Enhanced Coordination with Digital Cinema Cameras from RED Digital Cinema
​​​​​​​
Display units contain two types of LUT presets for converting video signals from RED Digital Cinema cameras into HDR (PQ)/SDR. This makes it possible to display the captured video in HDR or SDR without the user having to prepare the LUT, for improved convenience when checking the video on set.​​​​​​​
Further Enhancement of Functions to Support Editing Operations
​​​​​​​
During shooting or editing operations, you can check the XY chromaticity value of pixels specified by the user and the coordinate position on the chromaticity diagram[3] for ITU-R BT.2020 colour gamut video. With the display being able to log and export (via USB memory) up to 1,000 error histories for issues such as detection of incorrect signals and connections, it is possible track when and what kind of errors occurred during the grading process. In addition, the DP-V3120 (released in November 2019), which achieves a maximum full-screen brightness of 2,000 cd/m2, can easily display images with different luminance, such as 2,000 cd/m2 and 1,000 cd/m2, with the touch of a button and compare them displayed side by side. Expansion of these functions contributes to more efficient editing of high-quality 4K/HDR video.​​​​​​​
​​​​​​​
About Canon Marketing Vietnam Company Limited:
​​​​​​​Canon's products reached Vietnam market in the early years of the 1980s through its authorized distributor. Over the past 14 years, Canon has marked its very active presence with the establishment of 04 factories in industrial zones such as Thang Long - Hanoi, Que Vo and Tien Son - Bac Ninh, Pho Noi - Hung Yen, and Canon Marketing Vietnam Company Limited. In addition to creating jobs for more than 25,000 people, Canon has also contributed to Vietnam's social development goals through its meaningful CSR activities. Canon Marketing Vietnam Company Limited is operating under the directions and support from Canon Asia Marketing Group, and Canon Singapore Private Limited Company, Canon's regional headquarter for South and Southeast Asia. Besides having Le Bao Minh as the Distributor, Canon also involves more than 300 dealers in Vietnam.
​​​​​​​
​​​​​​​For further information, visit www.canon.com.vn
​​​​​​​For product images, please visit: Canon Photo Library
​​​​​​​Media contacts:
​​​​​​​Ms Tran Thi Thuy Loan
​​​​​​​Canon Marketing Vietnam Company Limited
​​​​​​​Email: tran_loan@canon.com.vn​​​​​​​
​​​​​​​[1] Firmware is a type of software used to control product hardware functions.
​​​​​​​[2] Abbreviation of Hollywood Professional Association.
​​​​​​​[3] A numerical representation of colour, expressed as XY coordinates.