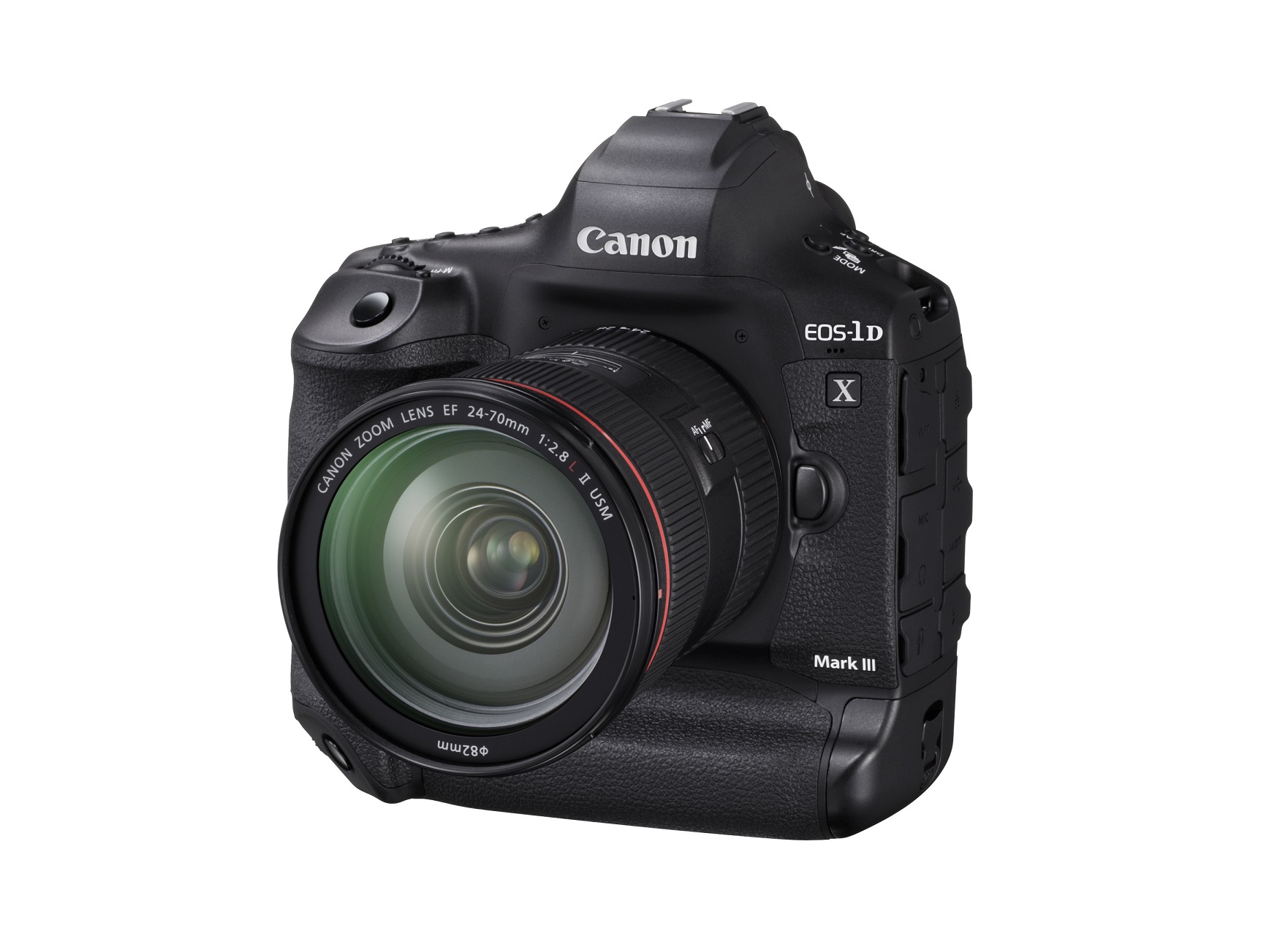 Ho Chi Minh City, 25 October 2019 – Canon announced today that development is underway on the EOS-1D X Mark III, the newest entry in the EOS-1 series highly trusted by professional photographers in such fields as sports and portraiture for its high performance and reliability. The new model will deliver enhanced image quality, continuous shooting and operability over its predecessor, the EOS-1D X Mark II (released in April 2016).
This year marks the 30th anniversary of the birth of the EOS-1 Series flagship model of Canon cameras, which began in 1989 with the release of the EOS-1. Based on the original EOS concept of delivering automated performance in accordance with the will of the user the EOS-1 was designed to meet the most demanding professional needs with state-of-the-art technology, top-class functionality, durability, strength and reliability.
In 2001, Canon released the company's first digital flagship camera, the EOS-1D. Ever since, the camera and its successor model have delivered high image quality and high-speed continuous shooting along with functionality supported by the highest level of Canon technology, earning renown from professionals on the front lines of such fields as journalism, sports, commercial and nature photography.
Over the past several decades, Canon has also continued to provide behind-the-scenes support for journalists at sporting events. With the aim of "capturing and preserving decisive, thrilling moments from top-class athletes and intense competition," Canon has operated camera support centers at a wide range of sporting events in order to ensure photographers are always ready to capture the action. What's more, experience and feedback from these professionals help influence development of future products, enabling the company to continue providing ever more reliable camera technology.
With the introduction of the EOS-1, equipped with state-of-the-art technology and top-class functionality, and the implementation of these features through the product lineup—even down to entry-level models—Canon serves the needs of customers at various levels. Going forward, the company will continue to advance its core optical technologies and push the limits of competitive and reliable camera and lens manufacturing in order to support the further evolution of photographic and visual expression.
Canon is planning to implement the following features in the currently under-development EOS-1D X Mark III.
Newly developed CMOS sensor and image processor for higher image quality and faster continuous shooting speeds
- Canon's in-development proprietary CMOS sensor and image processor will realize higher sensitivity for stills shooting compared with predecessor models. Saving of still-image 10-bit HEIF[1] files will be supported. In addition, the camera will support internal recording of 4K / 60p / YCbCr 4:2:2 / 10-bit / Canon Log and RAW format video.
- AF and AE tracking supported whether shooting with the optical viewfinder (OVF) or live view and improved continuous shooting speeds compared with previous models. With AF and AE tracking, the camera realizes up to approximately 16 frames-per-second shooting using the OVF and 20 with live view. What's more, when shooting with live view, photographers can choose to shoot using either the mechanical shutter or electronic shutter.
- 5x increase in maximum number of images captured when performing continuous RAW shooting compared with predecessor models.
More precise autofocus thanks to newly developed AF sensor and AF algorithm
- A new AF sensor will be employed, which increased the number of effective pixels in the center pixel area by approximately 28x compared with predecessor models. High-resolution signals obtained by the AF sensor will enable high focus accuracy when shooting through the OVF. In addition, an expanded AF brightness range will be available for both OVF and live view shooting.
- When using either the OVF or live view, the new AF algorithm, which features more stable performance, will utilize deep learning technology to further improve it tracking capabilities.
- In live view, the AF offers an expanded focus area of approximately 100% (vertical) and approximately 90% (horizontal). In addition, up to 525 measurement points can be used for AF when using automatic selection.
Serving professional needs with enhanced data transmission functionality
- The currently in-development Wireless File Transmitter WFT-E9 (regulatory approval pending), when used with the EOS-1D X Mark III, realizes more than twice the wireless image data transmission speed[2] as its predecessor model, the WFT-E8 (released in April 2016). What's more, the WFT-E9 can also be used with the EOS C500 Mark II cinema camera (to be released in late December 2019).
- Serves as a connection to smartphones and other mobile devices via Wi-Fi and Bluetooth®[3]. Also enables recording of GPS information at the location of image capture.
- When using a wired LAN connection, the WFT-E9 achieves more than twice the image data transmission speed[2] of its predecessor model.
- Improved UI for establishing network connections.
- Expanded link functionality with various equipment. Compatible with the in-development Remote Control Pan-Tilt System which enables remote camera operation.
Trusted by professional photographers on the front lines
- Strong magnesium-alloy body provides high reliability.
- Rear-side buttons important for operation are back-lit to enable menu operation in dark conditions.
- The camera's memory card format has been changed from CFast 2.0 to CFexpress, enabling faster data writing. In addition, the camera will include two memory card slots.
- AF Start button features a new internal device that enables fast AF tracking setting without users having to release their finger.
- Battery Pack LP-E19 and a newly designed power management system provide a greater number of shots per charge compared with predecessor models.
Canon EOS-1D X Mark III will be ready for official sale at Vietnam market in February 2020.
About Canon Marketing Vietnam Company Limited
Canon's products reached Vietnam market in the early years of the 1980s through its authorized distributor. Over the past 14 years, Canon has marked its very active presence with the establishment of 04 factories in industrial zones such as Thang Long - Hanoi, Que Vo and Tien Son - Bac Ninh, Pho Noi - Hung Yen, and Canon Marketing Vietnam Company Limited. In addition to creating jobs for more than 25,000 people, Canon has also contributed to Vietnam's social development goals through its meaningful CSR activities. Canon Marketing Vietnam Company Limited is operating under the directions and support from Canon Asia Marketing Group, and Canon Singapore Private Limited Company, Canon's regional headquarter for South and Southeast Asia. Besides having Le Bao Minh as the Distributor, Canon also involves more than 300 dealers in Vietnam.
For further information, visit www.canon.com.vn
For product images, please visit: Canon Photo Library
Media contacts:
Ms Tran Thi Thuy Loan
Canon Marketing Vietnam Company Limited
Email: tran_loan@canon.com.vn
[1] High Efficiency Image File format. Realizes wider dynamic range and color representation compared with JPEG.
[2] Transfer speeds may be adversely affected depending on the usage environment. Wi-Fi®, Wi-Fi Alliance®, WPA™, WPA2™ and Wi-Fi Protected Setup™ are registered trademarks of the Wi-Fi Alliance.
[3] Supports Bluetooth Low Energy technology. Bluetooth® and the Bluetooth logo are registered trademarks of Bluetooth SIG, Inc. and are used by Canon Inc. under the relevant licensing agreements. Other trademarks and trade names are likewise the property of their respective owners.
Product Detail