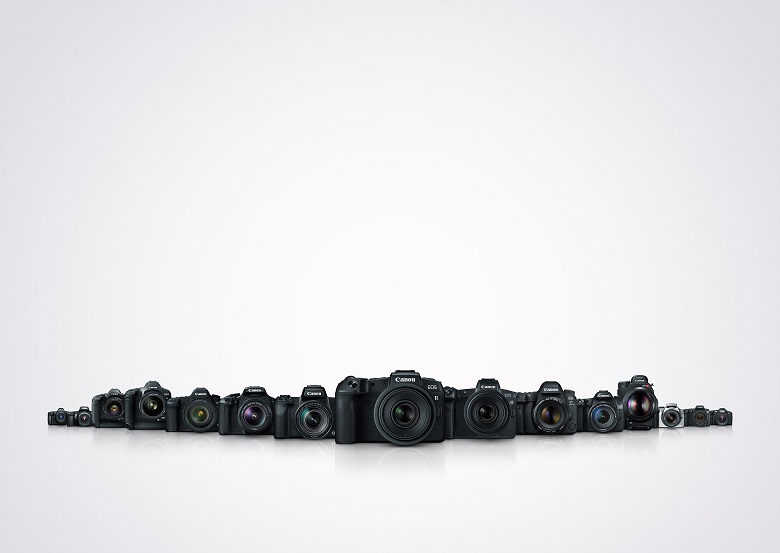 Ho Chi Minh City, 15 October 2019 – Canon today celebrated a camera-manufacturing milestone as combined production of the Company's EOS-series silver halide (film) and digital interchangeable-lens cameras surpassed 100 million units[1] on September 20, 2019. An EOS R mirrorless camera was the 100 millionth EOS-series camera produced.
Origin of the name EOS
An acronym of Electro Optical System, EOS is also the name of the goddess of the dawn in Greek mythology. Boasting an attractive product lineup that caters to a variety of user needs and an extensive series of EF lenses, with which Canon strives to expand the boundaries of imaging expression, the EOS series has supported a great many users over its long history, and enabled Canon to maintain the No. 1 share of the global interchangeable-lens digital camera market for 16 consecutive years from 2003 to 2018[2].
EOS 650 - The first EOS-series camera
The EOS series began with the EOS 650 (released in March 1987), a next-generation AF single-lens reflex (SLR) camera featuring the world's first fully electronic lens mount. Production of the EOS series began in what was then Canon's Fukushima plant and now takes place at a variety of locations—including Taiwan, Miyazaki, Nagasaki and the lynchpin Oita Canon—where production is carried out under stringent product quality management. Following the release of the EOS 650, Canon continued to introduce products featuring innovative technology that realize speed and comfort—such as the high-end EOS-1 (released in 1989) and the EOS Kiss (released in 1993)—expanding the EOS series to cater to users ranging from amateur to professional.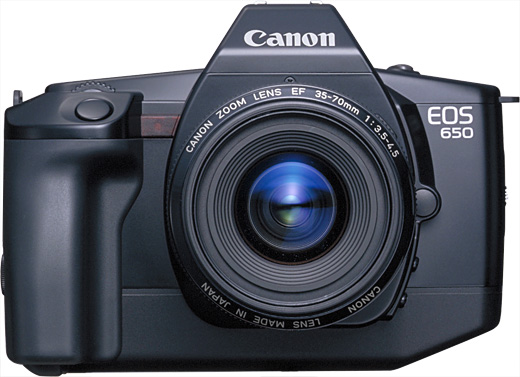 A wide range of products that has constantly been being improved
From the year 2000 onwards as the pace of digital SLRs (DSLR) adoption picked up, Canon sought to create even more appealing products. The EOS series' core concept was expanded to include "high image quality," achieved through such proprietary, cutting-edge technology as CMOS sensors and DIGIC image processors. In 2003, Canon released the EOS Kiss—a compact, lightweight DSLR with an affordable price—which contributed to the wider adoption of interchangeable-lens digital cameras. Through the EOS 5D series, which contributed to the use of interchangeable-lens cameras for video capture, and the establishment of the Cinema EOS System of professional digital cinematography products in 2012, Canon extended its video technology to the BtoB sphere as it entered the video production industry. Canon will continue to explore new approaches with the EOS series, such as the 2018 launch of the EOS R System, which employs the new RF Mount.
Expanding from its beginnings in still photos to the realm of video, the EOS series has come to support a wide range of users, from entry-level to professional. Canon will continue to pursue "speed, comfort and high image quality" as the core concept of the EOS series, further strengthening and expanding the EOS System towards expanding the culture of photographic and video imaging.
EOS series camera production over time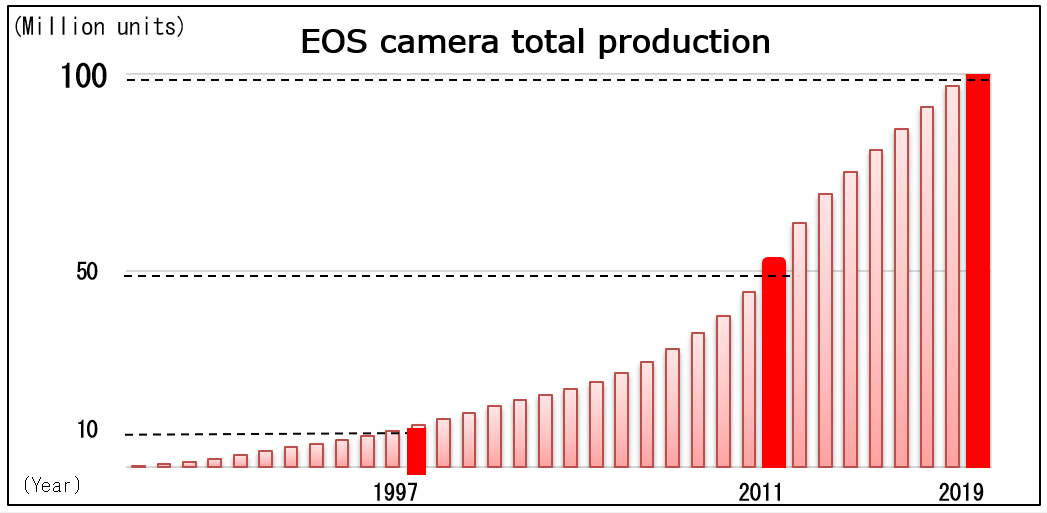 In 1997, combined production of EOS-series cameras surpassed 10 million units. Having established a product lineup that meets a diverse range of needs and capitalizing on the expanded adoption of digital SLR cameras that mainly occurred during the first half of the 2000s, production of EOS-series cameras reached 50 million units in 2011. Now, as of September 20, production has exceeded 100 million units.
Noteworthy EOS-series models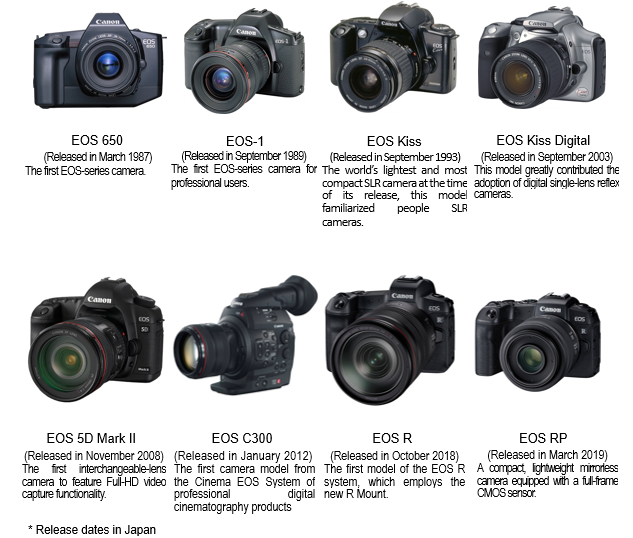 [1] Including Cinema EOS System cameras
[1] Based on units sold. According to a Canon survey
* Release dates in Japan
About Canon Marketing Vietnam Company Limited
Canon's products reached Vietnam market in the early years of the 1980s through its authorized distributor. Over the past 14 years, Canon has marked its very active presence with the establishment of 04 factories in industrial zones such as Thang Long - Hanoi, Que Vo and Tien Son - Bac Ninh, Pho Noi - Hung Yen, and Canon Marketing Vietnam Company Limited. In addition to creating jobs for more than 25,000 people, Canon has also contributed to Vietnam's social development goals through its meaningful CSR activities. Canon Marketing Vietnam Company Limited is operating under the directions and support from Canon Asia Marketing Group, and Canon Singapore Private Limited Company, Canon's regional headquarter for South and Southeast Asia. Besides having Le Bao Minh as the Distributor, Canon also involves more than 300 dealers in Vietnam.
For further information, visit www.canon.com.vn
For product images, please visit: Canon Photo Library
Media contacts:
Ms Tran Thi Thuy Loan
Canon Marketing Vietnam Company Limited
Email: tran_loan@canon.com.vn
Email: tran_loan@canon.com.vn